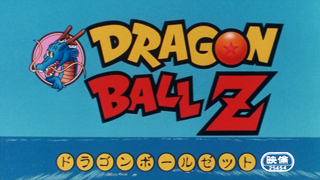 ドラゴンボールZ
Doragon Bōru Zetto
Dragon Ball Z
General Information
Movie Premiere & Promotion
The movie premiered as part of the Summer 1989 "Toei Cartoon Festival" (東映まんがまつり; Tōei Manga Matsuri) on 15 July 1989, along with three other movies from the Akuma-kun, Himitsu no Akko-chan and Mobile Cop Jiban series. The "Toei Cartoon Festival" was established by Toei in 1969 as a way to showcase their popular children's series as theatrical films during seasonal breaks in the school year: spring vacation, summer vacation, and winter vacation. In Japan, almost all schools below the university level run a three-term school year (trimester system) with a vacation period of several weeks to a month at the end of each trimester. The movies were screened together back-to-back in various cities across Japan, with a typical total running time of roughly three hours. Most festivals would last roughly one month, or as long as the seasonal vacation allowed. Tickets could be purchased at the theater, or discount tickets could be purchased in advance which covered the cost of admission, as well as a bonus item such as a promotional pamphlet describing the featured movies, and various other special presents, such as posters, paper hats, cards, and toys. Additional items, including the official theatrical pamphlet and a variety of other commemorative goods, were available for purchase at cinemas or by mail during this period.



Home Video Release
Up until the Dragon Box DVD sets began being released in the early 2000s, the only Dragon Ball properties released to home video in Japan were the original seventeen theatrical films, most of which were available on VHS, LaserDisc, and 8mm film reels. These home video releases were a luxury for most fans, as they came at a rather high price point for the time. They were later re-released in 1996 to replace the then out-of-print VHS tapes with a lower price point and slightly different covers.
After releasing the entirety of the three Dragon Ball TV series, Toei released their fifth and final "Dragon Box", which was entitled "Dragon Box The Movies". The Dragon Box contained all seventeen original Dragon Ball movies presented in their theatrical 16:9 widescreen aspect ratio. As a special bonus for the movie's first DVD release, Toei dug through their vaults and included some of the movie's original promotional material.
Theatrical Preview (劇場予告)
Running Time: 26 seconds
Digest (ダイジェスト)
Running Time: 2 minutes, 26 seconds
Following the "Dragon Box", Toei began releasing each movie individually on DVD. To help promote the sale of movie individual discs, Shueisha handed out a free promotional DVD highlighting the releases at Jump Festa 2009. The DVD contained promotional trailers for each movie which were narrated by veteran Dragon Ball cast member Shigeru Chiba, the voice of such notable characters as Pilaf, Garlic Jr. (TV series), and Raditz. More information about the promotional DVD is available in our "Home Video Guide".
In July 2018, the original seventeen theatrical films were released on Japanese Netflix and Amazon Prime streaming services. The addition of the movies themselves was heavily promoted throughout social media, however it was not announced or promoted at the time that they were actually new, high-definition remasters of the films scanned, and subsequently remastered, from the original film negatives. Shortly thereafter on 09 August 2018, Toei Animation formally announced the release of these newly-remastered versions of the movies across eight Blu-ray volumes. All non-credit versions of the opening and endings included with the release are up-converts of those originally included on the original LaserDisc releases and all bonus promotional materials (trailers, digests, etc.) are presented in their original standard definition format as included in the Dragon Box release.
Movie Synopsis
Far off, in a remote location, Piccolo is training for his next battle with Goku. Without warning, he is attacked by a mysterious group of powerful fighters. Back on Mount Pao-tzu, the mysterious group easily defeats Gyūmaō and Chi-Chi, and kidnaps Gohan, who has the Four-Star Ball. Goku returns home to find Chi-Chi beaten up, and learns that Gohan has been taken. Using the Dragon Radar, Goku determines his location and heads out to retrieve his son.
Elsewhere, the leader of the mysterious group is revealed to be Garlic Jr., whose goal is to obtain the seven Dragon Balls and be granted immortality so he can take the throne of God. Nikki is charged with taking care of Gohan, but Gohan is quite a handful. Gohan says he's hungry, and pulls out a piece of fruit, which he took from a tree outside. Nikki tells him not to eat it, but it's too late: Gohan has eaten the whole thing. A musical scene with an intoxicated, hallucinating Gohan follows, before he eventually passes out on Garlic Jr.'s throne.
Having gathered all of the Dragon Balls, Garlic Jr. calls forth Shenlong and is granted immortality. Goku arrives and demands they return Gohan, but Garlic Jr. refuses. Goku prepares to fight them, but God suddenly appears. God explains that Garlic Jr.'s father, Garlic, was a man who had previously vied for the position of God, but the former God saw his evil intention and sealed his power away. Goku leaves Garlic Jr. to God, and heads into the palace to find Gohan. Garlic Jr.'s underlings follow Goku to intervene in his search. Kuririn runs in to help Goku find Gohan, but then Piccolo also appears. Garlic Jr.'s underlings are shocked that he's alive, and a fierce battle is about to unfold, when Gohan wanders in and pees on Kuririn's head.
Garlic Jr. is having an easy time with God, who has grown old and is not the fighter he once was. God realizes this and decides to take his own life to stop him, but before he can go through with it, Goku and Piccolo arrive on the scene, having defeated Nikki, Sansho, and Ginger. Garlic Jr. transforms, undergoing a massive power up. The battle begins and the two are no match for the transformed Garlic Jr. They shed their weighted clothing and begin to push Garlic Jr. to his limits. Meanwhile, as Kuririn is running away carrying Gohan, he becomes collateral damage in the fierce fight and faints. Gohan falls deep into the bottom of the palace….
Thinking they've defeated Garlic Jr., Piccolo and Goku turn to begin their own personal battle, but Garlic Jr. emerges, unscathed. He's had enough, and generates a Dead Zone to finish everyone off. Gohan hears his father and begins to cry from the rubble. An angry Gohan emerges, revealing his terrifying hidden power. Garlic Jr. can't believe it, and tries to suck him into the Dead Zone, but it's no use. Enraged, Gohan blasts Garlic Jr. into the Dead Zone, sealing him inside forever. Goku rushes over to Gohan, who wakes up with no memory of what has transpired (he thinks his father has saved him). Having rescued Gohan, the two fly off on Kinto-Un back to Mount Pao-tzu.













Movie Characters & Items
The following original character profiles were translated from Daizenshuu 6, with additional character design comments from the movie's character designer, Minoru Maeda, as published in the "Design Lab" section of the "Dragon Box The Movies" Dragon Book.
Movie Notes
When the movie premiered in July 1989, it was at that point officially titled "Dragon Ball Z", and all official promotional items and materials prior to the movie's premiere used this title as well. The sub-title "Return My Gohan!!" (

オラの悟飯をかえせッ!!

; Ora no Gohan o Kaese!!) never appeared in the movie itself and was not included as part of the movie's title until Daizenshuu 6 was released in late-1995. The phrase "Return My Gohan!!" did appear on the back of the VHS and LaserDisc releases in 1990, but was not actually considered part of the movie's name. Even now, the movie is almost always referred to officially as "Dragon Ball Z" in Japanese media and guides.
Daizenshuu 6 classifies this movie as an event that takes place between the end of Dragon Ball and Raditz's arrival at the beginning of Dragon Ball Z:


Due to the appearance of young Gohan, this is unmistakably after Goku and Chi-Chi wed. But due to the fact that Goku, who dies in the battle with Raditz, is alive, this must be an event before Raditz attacked.
— "Dragon Ball Daizenshuu 6: Movies & TV Specials" (p. 44)

Even so, there are discrepancies, such as Kuririn's meeting the young Gohan here (when in the TV show, he is later surprised to learn Goku has a child), which prevent it from fitting in completely with the main series timeline.

Although this movie was presented in a 16:9 widescreen aspect ratio in theaters, it was actually animated in a 4:3 fullscreen format. In fact, when the movie was initially released in 1990 on VHS, Betamax, and LaserDisc, it was presented in this 4:3 fullscreen format. However, the "Dragon Box The Movies" release would later drop this format, instead presenting all of the movies in their original widescreen theatrical format. Overall, this movie has been released to the home market on VHS, Betamax, LaserDisc, 8mm film reel, DVD, and Blu-ray.
The movie was eventually adapted and released by Shueisha as a film animation comic in September 1994, and subsequently re-released under Shueisha's "Jump Remix" line in April 2005.
Name Puns
The Supplemental Daizenshuu states in its "Animation's Gleanings" section that Garlic and all of his underlings' names are derived from various spices. For instance, the father-son duo of Garlic and Garlic Jr. get their names directly from Garlic.
Ginger's name is taken directly from the Ginger spice.
Nikki's name comes from the Chinese-derived Japanese word for Cinnamon, "nikki".

肉桂

(

ni·k·ki

)

›

ニッキー

(

ni·k·ki·i

)

Sansho's name is derived from the spice Zanthoxylum piperitum, known in English as "Japanese pepper" or "Japanese prickly ash".

山椒

(

sa·n·sho·o

)

›

サンショ

(

sa·n·sho

)

In addition to their names, the battle cries of Garlic Jr.'s underlings are all food items which incorporate their namesake as an ingredient.
Movie Credits
All credits listed below are as originally presented in the theatrical film. All original credit errors have been corrected to maintain accurate spellings throughout the site. For more information and a complete listing of the series staff, visit the Production Guide.
Cast Credits
The cast credits are listed in order of character importance within the series. For more detailed information about the series cast, visit the Cast Guide.
孫悟空

Son Goku

孫悟飯

Son Gohan

野沢雅子

Masako Nozawa

ピッコロ大魔王

Demon King Piccolo

古川登志夫

Toshio Furukawa

ブルマ

Bulma

鶴 ひろみ

Hiromi Tsuru

クリリン

Kuririn

田中真弓

Mayumi Tanaka

牛魔王

Gyūmaō

郷里大輔

Daisuke Gōri

チチ

Chi-Chi

荘 真由美

Mayumi Shō

亀仙人

Kame-Sen'nin

宮内幸平

Kōhei Miyauchi

神様

God

青野 武

Takeshi Aono

神龍

Shenlong

内海賢二

Kenji Utsumi

ガーリックJr.

Garlic Jr.

神谷 明

Akira Kamiya

ジンジャー

Ginger

戸谷公次

Kōji Totani

サンショ

Sansho

堀 之紀

Yukitoshi Hori

ニッキー

Nikki

千葉 繁

Shigeru Chiba

ナレーション

Narration

八奈見乗児

Jōji Yanami
Opening Credits
製作総指揮

Executive Producer

今田智憲

Chiaki Imada

原作

Original Author

鳥山 明

Akira Toriyama

(週刊少年ジャンプ・連載)

(Weekly Shōnen Jump – Serialization)

企画

Planning

森下孝三

Kōzō Morishita

製作担当

Production Manager

岸本松司

Shōji Kishimoto

脚本

Script

小山高生

Takao Koyama

音楽

Music

菊池俊輔

Shunsuke Kikuchi

オープニング テーマ

Opening Theme

作詞

Lyrics

作曲

Composition

編曲

Arrangement

うた

Vocals

「CHA-LA HEAD-CHA-LA」

"CHA-LA HEAD-CHA-LA"

森雪之丞

Yukinojō Mori

清岡千穂

Chiho Kiyo'oka

山本健司

Kenji Yamamoto

影山ヒロノブ

Hironobu Kageyama

(コロムビアレコード)

(Columbia Records)

エンディング テーマ

Ending Theme

作詞

Lyrics

作曲

Composition

編曲

Arrangement

うた

Vocals

「でてこい とびきり ZENKAI パワー!」

"Come Out, Incredible ZENKAI Power!"

荒川稔久

Toshihisa Arakawa

池  毅

Takeshi Ike

山本健司

Kenji Yamamoto

MANNA

MANNA

(コロムビアレコード)

(Columbia Records)

挿入歌

Insert Song

作詞

Lyrics

作曲

Composition

編曲

Arrangement

うた

Vocals

「天下一ゴハン」

"The World's Greatest Gohan"

岩室先子

Sakiko Iwamuro

池  毅

Takeshi Ike

山本健司

Kenji Yamamoto

野沢雅子

Masako Nozawa

(コロムビアレコード)

(Columbia Records)

撮影

Photography

池上元秋

Motoaki Ikegami

編集

Editing

福光伸一

Shin'ichi Fukumitsu

録音

Recording

二宮健治

Kenji Ninomiya

美術監督

Art Director

池田祐二

Yūji Ikeda

作画監督

Animation Supervisor

前田 実

Minoru Maeda

監督

Director

西尾大介

Daisuke Nishio
Ending Credits
声の出演

Voice Performances

~~~~

協力

In Cooperation With

青二プロダクション

Aoni Production

原画

Key Animation

須田正己

Masami Suda

松下浩美

Hiromi Matsushita

西村 聡

Satoshi Nishimura

吉松孝博

Takahiro Yoshimatsu

松本 清

Kiyoshi Matsumoto

佐藤正樹

Masaki Satō

島貫正弘

Masahiro Shimanuki

井手武生

Takeo Ide

三木佳人

Yoshito Miki

青井清年

Kiyotoshi Aoi

神志那弘志

Hiroshi Kōjina

竹内浩志

Hiroshi Takeuchi

藤澤俊幸

Toshiyuki Fujisawa

海老沢幸男

Yukio Ebisawa

江口寿志

Hisashi Eguchi

柴田則子

Noriko Shibata

久田和也

Kazuya Hisada

中鶴勝祥

Katsuyoshi Nakatsuru

道下有希子

Yukiko Michishita

 

動画

In-Between Animation

上杉千佳子

Chikako Uesugi

市橋則子

Noriko Ichihashi

伊東美奈子

Minako Itō

三柴直樹

Naoki Mishiba

牛来隆行

Takayuki Gorai

吉川博明

Hiroaki Yoshikawa

中村美雪

Nakamura Miyuki

高野政弘

Masahiro Takano

野村暁彦

Akihiko Nomura

伊月一郎

Ichirō Itsuki

岩上久仁子

Kuniko Iwagami

中村まゆみ

Mayumi Nakamura

門田英彦

Hidehiko Kadota

松本明子

Akiko Matsumoto

山根 宰

Tsukasa Yamane

江原 仁

Hitoshi Ehara

関 明美

Akemi Seki

神戸洋行

Hiroyuki Kanbe

増田清美

Kiyomi Masuda

 

背景

Backgrounds

高田茂祝

Shigenori Takada

高橋 忍

Shinobu Takahashi

工藤英昭

Hideaki Kudō

土井則良

Noriyoshi Doi

常盤庄司

Shōji Tokiwa

長崎 斉

Hitoshi Nagasaki

松井 睦

Mutsumi Matsui

飯田裕子

Yūko Iida

吉田智子

Tomoko Yoshida

飯島由樹子

Yukiko Iijima

仕上

Finishing Touches

増井美知子

Michiko Masui

上村育代

Ikuyo Uemura

我妻恵子

Keiko Azuma

森 功子

Isako Mori

金井八重子

Yaeko Kanai

鈴木美佐江

Misae Suzuki

渡辺利代子

Riyoko Watanabe

大堀陽子

Yōko Ōbori

小作由美子

Yumiko Kosaku

 

検査

Inspection

中野倫明

Michiaki Nakano

特殊効果

Special Effects

橋本由香里

Yukari Hashimoto

撮影

Photography

前原勝則

Katsunori Maehara

大藤哲生

Tetsuo Daitō

池谷和美

Kazumi Iketani

伊藤  寛

Hiroshi Itō

鈴木克次

Katsuji Suzuki

鈴木典子

Noriko Suzuki

黒田洋一

Yōichi Kuroda

野口博志

Hiroshi Noguchi

難波充子

Michiko Nanba

池上伸治

Shinji Ikegami

音響効果

Sound Effects

新井秀徳

Hidenori Arai

ネガ編集

Negative Editing

岸 真理

Mari Kishi

録音助手

Recording Assistant

渋江博之

Hiroyuki Shibue

監督助手

Assistant Director

折目達也

Tatsuya Orime

記録

Documentation

原 芳子

Yoshiko Hara

仕上進行

Finishing Manager

植木知子

Tomoko Ueki

美術進行

Art Manager

中村 実

Minoru Nakamura

製作進行

Assistant Production Manager

末永雄一

Yūichi Suenaga

録音スタジオ

Recording Studio

タバック

TAVAC

現像

Film Developing

東映化学

Toei Chemistry
おわり
The End
© TOEI ANIMATION STUDIO 1989