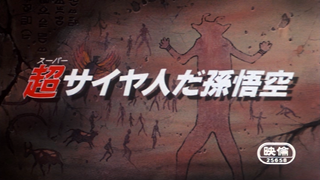 超サイヤ人だ孫悟空
Sūpā Saiya-jin da Son Gokū
Super Saiyan Son Goku
General Information
Movie Premiere & Promotion
The movie premiered as part of the 1991 Spring "Toei Anime Fair" (東映アニメフェア; Tōei Anime Fea) on 09 March 1991, along with another movie from the Magical Taluluto series. The event originates from the "Toei Manga Festival" that was established by Toei in 1969 as a way to showcase their popular children's series as theatrical films during seasonal breaks in the school year. In Japan, almost all schools below the university level run a three-term school year (trimester system) with a vacation period of several weeks to a month at the end of each trimester: spring vacation, summer vacation, and winter vacation. The movies were screened together back-to-back in various cities across Japan, with a typical total running time of roughly three hours. Most festivals would last roughly one month, or as long as the seasonal vacation allowed. Tickets could be purchased at the theater, or discount tickets could be purchased in advance which covered the cost of admission, as well as a bonus item such as a promotional pamphlet describing the featured movies, and various other special presents, such as posters, paper hats, cards, and toys. Additional items, including the official theatrical pamphlet and a variety of other commemorative goods, were available for purchase at cinemas or by mail during this period.



Home Video Release
Up until the Dragon Box DVD sets began being released in the early 2000s, the only Dragon Ball properties released to home video in Japan were the original seventeen theatrical films, most of which were available on VHS, LaserDisc, and 8mm film reels. These home video releases were a luxury for most fans, as they came at a rather high price point for the time. They were later re-released in the late-1990s to replace the then out-of-print VHS tapes with a lower price point and slightly alternate covers.
After releasing the entirety of the three Dragon Ball TV series, Toei released their fifth and final "Dragon Box", which was entitled "Dragon Box The Movies". The Dragon Box contained all seventeen original Dragon Ball movies presented in their theatrical 16:9 widescreen aspect ratio. As a special bonus for the movie's first DVD release, Toei dug through their vaults and included some of the movie's original promotional material.
Theatrical Preview (劇場予告)
Running Time: 50 seconds
Digest (ダイジェスト)
Running Time: 1 minute, 58 seconds
Non-credit Version – Opening & Ending (ノンテロップ版・オープニング&エンディング)
Running Time: 3 minutes, 28 seconds
Following the "Dragon Box", Toei began releasing each movie individually on DVD. To help promote the sale of movie individual discs, Shueisha handed out a free promotional DVD highlighting the releases at Jump Festa 2009. The DVD contained promotional trailers for each movie which were narrated by veteran Dragon Ball cast member Shigeru Chiba, the voice of such notable characters as Pilaf, Garlic Jr. (TV series), and Raditz. More information about the promotional DVD is available in our "Home Video Guide".
In July 2018, the original seventeen theatrical films were released on Japanese Netflix and Amazon Prime streaming services. The addition of the movies themselves was heavily promoted throughout social media, however it was not announced or promoted at the time that they were actually new, high-definition remasters of the films scanned, and subsequently remastered, from the original film negatives. Shortly thereafter on 09 August 2018, Toei Animation formally announced the release of these newly-remastered versions of the movies across eight Blu-ray volumes. All non-credit versions of the opening and endings included with the release are up-converts of those originally included on the original LaserDisc releases and all bonus promotional materials (trailers, digests, etc.) are presented in their original standard definition format as included in the Dragon Box release.
Movie Synopsis
Piccolo is peacefully meditating on his own when Gohan and Hire Dragon appear to show off their new whistling dance. Piccolo quickly yells at Gohan to stop, as the high-pitched whistling is hurting his sensitive Namekian ears. Meanwhile, a strange planet is quickly approaching the Earth. Goku and Kuririn attempt to redirect the oncoming planet with a Kamehameha, but it has no effect and the planet simply pushes our heroes aside. The planet suddenly explodes and a spaceship is found to have landed on the Earth. An invasion force under the direction of Slug, a Super Namekian with a heart of pure evil, quickly takes over the surrounding area.
Gohan soon arrives to fight off the invading forces, and is easily dispatching most of them. However, Slug has been observing the battle from inside the spaceship and notices the dragonball on Gohan's hat. Bulma, Chi-Chi, and Oolong then arrive as Chi-Chi encourages Gohan to fight on, but Bulma insists on knowing Slug's ultimate goal. After taking Gohan's dragonball Slug says he plans to use the Earth as a new vehicle, as his has been destroyed. Gohan won't let this happen, but is easily defeated by Dorodabo and Angira, Slug's right-hand men. Slug then reads Bulma's mind and learns of the dragonballs on Earth. He quickly dispatches his men to gather the dragonballs and eventually wishes to have his youth restored.
After some time passes, the Earth's temperature has drastically dropped as Slug has covered the planet with dark clouds, blocking the sun's rays. Gohan has recovered, and not giving up the fight to save his planet he returns to challenge Slug. Unfortunately he is still no match and is about to be defeated, but is saved by Piccolo, who easily defeats Dorodabo. However, Gohan has had his energy drained by Medamaccha and Piccolo is seriously injured by Angira while protecting Gohan. Goku suddenly arrives, pulverizing Angira and Medamaccha with his overwhelming strength.
Kuririn pays no attention to Goku's warning and decides to take on Slug, but is no match for powerful Namekian. Goku and Slug begin a one-on-one duel, but it is soon evident that Slug's strength surpasses even that of Goku's. With his back against the wall, Goku summons all of his strength and is overtaken by a golden aura. His Super Saiyan powers have manifested! Goku quickly overwhelms Slug, but the evil Namekian has one last trick up his sleeve – the Super Giant Body Arts technique!
Slug once again turns the table on Goku, but at that moment Piccolo remembers the effects Gohan's whistling had on him. He rips off his own ears and yells at the beaten Gohan to start whistling. Slug quickly falls to ground in utter pain, releasing Goku from his grasp. Piccolo takes the chance to transfer his remaining ki to Goku, who then flies up over the dark clouds and begins forming a Genki-Dama with the energy from the sun. Slug flies up to stop him, but is hit head-on by the Genki-Dama which sends him crashing into the nearby machine creating the dark clouds. As the clouds disappear, the sun's rays bring peace back to the Earth once again.













Movie Characters & Items
The following original character profiles were translated from Daizenshuu 6, along with additional character design comments from the movie's character designer, Minoru Maeda, as published in the "Design Lab" section of the "Dragon Box The Movies" Dragon Book.
Movie Notes
This is the first time Naoko Watanabe is heard portraying Chi-Chi. Following this, Watanabe fully took over the role of Chi-Chi in the animated TV series beginning with Dragon Ball Z episode 88. Chi-Chi's original voice actress, Mayumi Shō, left the series in November 1990 (following episode 66) after giving birth and opting not to return in order to take care of her newborn child.
Gohan's whistling was provided by Hajime Ueshiba, a professional whistler and pianist. The "'91 Memorial" section of Daizenshuu 6 recounts stories of "children imitating Gohan's whistling when they came out of the theater after seeing the movie".
As Chi-Chi walks to Gohan's room in the Son household to bring him a warm beverage, she walks past a cork board where a calendar of March 1991 (the month and year this movie premiered), is hanging next to photos of Kame-Sen'nin and Gohan. When Chi-Chi enters Gohan's room a poster of Arale Norimaki from Dr. Slump — Arale-chan is hanging to the right of the door, while a poster of a "Honda Marlboro McLaren MP4/6" Formula One racecar is hanging to its left.

In 1990, McLaren Racing became one of Weekly Shōnen Jump's main sponsors and the magazine would frequently feature their advertisements, in addition to providing cover illustrations from current serializations, like Dragon Ball. Akira Toriyama is himself an avid fan of Formula One racing and often made mention of it in his weekly Jump commentary. The exact car model mentioned above was also featured in an advertisement in this movie's respective pamphlet handed out at the Toei Anime Fair, promoting the 1st and 2nd rounds of the 1991 Formula One Grand Prix that would be broadcast on Fuji TV.

Son Goku first transformed into a Super Saiyan in Chapter 317 of the manga on 19 March 1991, just 10 days after this movie premiered. The "Super Saiyan" transformation seen in this movie was conceived by the anime staff prior to this, and is different from what Akira Toriyama eventually solidified. Daizenshuu 7 officially lists this transformation as "Pseudo Super Saiyan" (

擬似超サイヤ人

; giji sūpā saiya-jin) and describes it as:


A state that Goku transformed into in the movie "Super Saiyan Son Goku". It's similar to Super Saiyan in that the entire body is wrapped in an aura, but the hair is not completely golden. Also, his eyes become white, as if he had lost consciousness. It looks as if Goku's anger at being cornered by his enemy Slug overran and made him like a Super Saiyan.
— "Dragon Ball Daizenshuu 7: Dragon Ball Large Encyclopedia" (p. 134)

Coincidentally, the "Particulars Dictionary" section of Daizenshuu 7 notes that Toriyama came up with the idea of having Goku's hair stand up in his "Pseudo Super Saiyan" form. Toriyama would later incorporate this idea into his finalized version of the transformation for the manga, however he opted to also change the hair color for more practical reasons:

I decided on the design for the Super Saiyan for, to be honest… a simple reason that will leave you saying "What?". I always have only a single person, Assistant-kun, helping me with my work. That Assistant-kun's time was always taken up doing the black fill of Goku's hair, so the biggest reason was in order to save time. Because when he became a Super Saiyan, we wouldn't have to do the black fill. It also had the effect of making it easy to tell from his appearance that Goku had gotten stronger, so it killed two birds with one stone.
— Akira Toriyama, "Dragon Ball Super Exciting Guide: Story Volume" (p. 88)

Daizenshuu 6 classifies this movie as a "movie inconsistency", explaining:


From the fact that Goku has not yet become a Super Saiyan, this story takes place before the final showdown with Freeza. However, at this time Goku should be in the midst of his battle on Planet Namek… This must also be a movie inconsistency.
— "Dragon Ball Daizenshuu 6: Movies & TV Specials" (p. 70)

Although this movie was presented in a 16:9 widescreen aspect ratio in theaters, it was actually animated in a 4:3 fullscreen format. In fact, when the movie was initially released in 1991 on VHS and LaserDisc, it was presented in this 4:3 fullscreen format. However, the "Dragon Box The Movies" release would later drop this format, instead presenting all of the movies in their original widescreen theatrical format. Overall, this movie has been released to the home market on VHS, LaserDisc, 8mm film reel, DVD, and Blu-ray.
The movie was eventually adapted and released by Shueisha as a film animation comic in March 1994, and subsequently re-released under Shueisha's "Jump Remix" line in April 2005.
Name Puns
In keeping with the Namekian slug/snail theme, Slug gets his name directly from the word slug. Keep in mind that this is not as blindingly obvious in Japanese as it is in English.
The "Animation's Gleanings" section of the Supplemental Daizenshuu states that all of Slug's main henchmen are named after the Andromeda Galaxy. This naming scheme was chosen for the simple fact that they all come from outer space.

アンドロメダ星雲

(

a·n·do·ro·me·da se·i·u·n

)

› アンギラ

(

a·n·gi·ra

)

+ ドロダボ

(

do·ro·da·bo

)

+ メダマッチャ

(

me·da·ma·t·cha

)

+

ゼエウン

(

ze·e·u·n

)

As described in the "Animation's Gleanings" section, Kakuja's name is derived from the Japanese word for "scholar", "gakusha".

学者

(

ga·ku·sha

)

›

カクージャ

(

ka·ku·u·ja

)

Gyoshu's name is derived from the Japanese word for "professor", "kyōju".

教授

(

kyo·o·ju

)

›

ギョーシュ

(

gyo·o·shu

)
Movie Credits
All credits listed below are as originally presented in the theatrical film. All original credit errors have been corrected to maintain accurate spellings throughout the site. For more information and a complete listing of the series staff, visit the Production Guide.
Cast Credits
The cast credits are listed in order of character importance within the series. For more detailed information about the series cast, visit the Cast Guide.
孫悟空

Son Goku

孫悟飯

Son Gohan

野沢雅子

Masako Nozawa

ピッコロ

Piccolo

古川登志夫

Toshio Furukawa

クリリン

Kuririn

田中真弓

Mayumi Tanaka

ブルマ

Bulma

鶴 ひろみ

Hiromi Tsuru

チチ

Chi-Chi

渡辺菜生子

Naoko Watanabe

ウーロン

Oolong

龍田直樹

Naoki Tatsuta

亀仙人

Kame-Sen'nin

宮内幸平

Kōhei Miyauchi

神龍

Shenlong

内海賢二

Kenji Utsumi

界王

Kaiō

八奈見乗児

Jōji Yanami

アンギラ

Angira

難波圭一

Kei'ichi Nanba

カクージャ

Kakuja

飯塚昭三

Shōzō Īzuka

ゼエウン

Zeiun

戸谷公次

Kōji Totani

ドロダボ

Dorodabo

郷里大輔

Daisuke Gōri

メダマッチャ

Medamatcha

堀 之紀

Yukitoshi Hori

兵士A

Soldier A

里内信夫

Shinobu Satōchi

兵士B

Soldier B

緑川 光

Hikaru Midorikawa

兵士C

Soldier C

中尾みち雄

Michio Nakao

スラッグ

Slug

屋良有作

Yūsaku Yara
Opening Credits
製作総指揮

Executive Producer

今田智憲

Chiaki Imada

茅野力造

(集英社)

Rikizō Kayano

(Shueisha)

原作

Original Author

鳥山 明

Akira Toriyama

(週刊少年ジャンプ・連載)

(Weekly Shōnen Jump – Serialization)

企画

Planning

森下孝三

Kōzō Morishita

清水賢治

(フジテレビ)

Kenji Shimizu

(Fuji TV)

週刊少年ジャンプ

Weekly Shōnen Jump

製作担当

Production Manager

鳥本 武

Take Torimoto

脚本

Script

小山高生

Takao Koyama

音楽

Music

菊池俊輔

Shunsuke Kikuchi

オープニング テーマ

Opening Theme

作詞

Lyrics

作曲

Composition

編曲

Arrangement

うた

Vocals

「CHA-LA HEAD-CHA-LA」

"CHA-LA HEAD-CHA-LA"

森雪之丞

Yukinojō Mori

清岡千穂

Chiho Kiyo'oka

山本健司

Kenji Yamamoto

影山ヒロノブ

Hironobu Kageyama

(コロムビアレコード)

(Columbia Records)

エンディング テーマ

Ending Theme

作詞

Lyrics

作曲

Composition

編曲

Arrangement

うた

Vocals

「「ヤ」なことには元気玉!!」

"There's a Genki-Dama in Bad Things!!"

佐藤 大

Dai Satō

清岡千穂

Chiho Kiyo'oka

山本健司

Kenji Yamamoto

影山ヒロノブ

Hironobu Kageyama

SHINES

(コロムビアレコード)

(Columbia Records)

撮影

Photography

坂西 勝

Masaru Sakanishi

高橋 基

Motoi Takahashi

編集

Editing

福光伸一

Shin'ichi Fukumitsu

録音

Recording

二宮健治

Kenji Ninomiya

美術監督

Art Director

吉田智子

Tomoko Yoshida

佐貫利勝

Toshikatsu Sanuki

キャラクターデザイン・作画監修

Character Design & Chief Animation Supervisor

前田 実

Minoru Maeda

作画監督

Animation Supervisor

中鶴勝祥

Katsuyoshi Nakatsuru

佐藤正樹

Masaki Satō

監督

Director

橋本光夫

Mitsuo Hashimoto
Ending Credits
声の出演

Voice Performances

~~~~

協力

In Cooperation With

青二プロダクション

Aoni Production

口笛演奏

Whistling Performance

上芝はじめ

Hajime Ueshiba

原画

Key Animation

海老沢幸男

Yukio Ebisawa

久田和也

Kazuya Hisada

沖本日出子

Hideko Okimoto

志田直俊

Naotoshi Shida

劉 輝久

Teruharu Ryū

飯田倫也

Tomoya Iida

西山映一郎

Ei'ichiro Nishiyama

澤木巳登里

Midori Sawaki

松本 清

Kiyoshi Matsumoto

平石素子

Motoko Hiraishi

飯島弘也

Hiroya Iijima

青嶋克己

Katsumi Aoshima

島貫正弘

Masahiro Shimanuki

井手武生

Takeo Ide

宮原直樹

Naoki Miyahara

山室直儀

Tadayoshi Yamamuro

柴田則子

Noriko Shibata

菅野利之

Toshiyuki Kan'no

石浜まさし

Masashi Ishihama

道下有希子

Yukiko Michishita

高橋英樹

Hideki Takahashi

今川よしみ

Yoshimi Imagawa

北爪宏幸

Hiroyuki Kitazume

 

動画

In-Between Animation

上杉千佳子

Chikako Uesugi

市橋則子

Noriko Ichihashi

新井洋子

Yōko Arai

広川智子

Tomoko Hirokawa

森本泰司

Taiji Morimoto

若木義昭

Yoshiaki Wakaki

日野寧子

Yasuko Akino

今井 誠

Makoto Imai

石渡清美

Kiyomi Ishiwata

岩上久仁子

Kuniko Iwagami

中村まゆみ

Mayumi Nakamura

松田千織

Chiori Matsuda

清原順治

Junji Kiyohara

江原 仁

Hitoshi Ehara

岡島大八

Daihachi Okajima

鈴木宮生

Miyao Suzuki

中山恵美子

Emiko Nakayama

高橋和弘

Kazuhiro Takahashi

動画チェッカー

In-Between Animation Checker

中村敏子

Toshiko Nakamura

舘 直樹

Naoki Tate

美術

Assistant Art Director

高田茂祝

Shigenori Takada

長崎 斉

Hitoshi Nagasaki

背景

Backgrounds

常盤庄司

Shōji Tokiwa

神山伸一

Shin'ichi Kōyama

柳沢玲一郎

Rei'ichirō Yagisawa

大山哲範

Tetsunori Oyama

片野坂悟一

Goichi Katanosaka

金子弘明

Hiroaki Kinsu

伊藤英子

Eiko Itō

牧野早苗

Sanae Bokuya

下川忠海

Tadami Shimokawa

 

仕上

Finishing Touches

増井美知子

Michiko Masui

花海美希

Miki Hanaumi

清山和子

Kazuko Kiyoyama

今井八重子

Yaeko Imai

上村育代

Ikuyo Uemura

港 紅子

Beniko Minato

冨永夕起子

Yukiko Tominaga

 

検査

Inspection

酒井日出子

Hideko Sakai

特殊効果

Special Effects

平尾千秋

Chiaki Hirao

撮影

Photography

片山幸男

Yukio Katayama

清水政夫

Masao Shimizu

武井利晴

Toshiharu Takei

福井政利

Masatoshi Fukui

濵木 淳

Atsushi Hamaki

真壁正之

Masayuki Makabe

高梨洋一

Yōichi Takanashi

細田民男

Tamio Hosoda

相磯嘉雄

Yoshio Aiso

田代儀幸

Noriyuki Tashiro

安藤 茂

Shigeru Andō

 

音響効果

Sound Effects

新井秀徳

Hidenori Arai

録音助手

Recording Assistant

渋江博之

Hiroyuki Shibue

ネガ編集

Negative Editing

麻生芳弘

Yoshihiro Asō

記録

Documentation

原 芳子

Yoshiko Hara

制作進行主任

Senior Assistant Production Manager

末永雄一

Yūichi Suenaga

製作進行

Assistant Production Manager

川岸達也

Tatsuya Kawagishi

仕上進行

Finishing Manager

植木知子

Tomoko Ueki

美術進行

Art Manager

中村 実

Minoru Nakamura

助監督

Assistant Director

藤瀬順一

Jun'ichi Fujise

プロデューサー補

Assistant Producer

蛭田成一

Sei'ichi Hiruta

録音スタジオ

Recording Studio

タバック

TAVAC

現像

Film Developing

東映化学

Toei Chemistry

宣伝協力

Promotional Support

フジテレビ

Fuji TV
おわり
The End
© TOEI ANIMATION STUDIO 1991