"Serialization" refers to the original, first-run printing of a series, generally on a chapter-by-chapter basis. For the original Dragon Ball manga — published weekly over the course of 1984 to 1995 — this was as a part of Shueisha's Weekly Shōnen Jump anthology magazine. For subsequent spin-offs and sequel series, serialization came in the form of everything from quarterly, to bimonthly, to monthly publications across a range of magazines.
The goal of this page is to maintain an up-to-date list of what Dragon Ball-adjacent series are currently in serialization, with descriptions of their respective magazines (or other source publications), and links to additional areas here within our "Manga Guide" where further breakdowns are available.
NOTE ABOUT THE BREADTH OF DRAGON BALL WORKS
This page is intended to primarily focus on the manga that is
currently
being serialized. There have been a wealth of
Dragon Ball
spin-off manga series over the decades, many of which you may have never heard of before! We invite you to further explore the "
Spin-Offs
" section here within our guide to learn more about such works, including
Hobby Warrior: Burn On, Bui!
,
Neko Majin
,
Cross Epoch
,
DeSpo FighterZ
, and many more!
Original Dragon Ball Serialization
Before moving into the current slate of series in serialization, it is worth reviewing how the original Dragon Ball series was published. Before being compiled into tankōbon (generally known throughout the English speaking world more colloquially as "Graphic Novel" collections), it was printed one chapter at a time within the pages of Weekly Shōnen Jump, a weekly manga anthology magazine aimed at young male readers first established in 1968 by Shueisha. Dragon Ball was serialized in Weekly Shōnen Jump from 20 November 1984 to 23 May 1995, and in combination with other top series of the time and a record high circulation volume, it was a definitive era for the magazine that came to be known as the "Golden Age of Jump." This era solidified Weekly Shōnen Jump as the flagship property of Shueisha's ever-changing Jump line of magazines, and to date it is the longest-running and best-selling manga magazine of all time.
Dragon Ball began as a weekly serialization in the popular boys magazine Weekly Shōnen Jump, and eventually became a household name across Japan. The series ran for just over a decade and helped spawn what came to be known as the "Golden Age of Jump".
Release Information
Released:20 November 1984 – 23 May 1995
Retail:¥170 – ¥210
Book Size:JIS B5 (18.2 × 25.7 cm)
Publisher:Shueisha
Volumes:516 issues
Current Dragon Ball Serialization — Print
Four Dragon Ball manga are currently serialized in print in Japan. These series are spread across two different magazines, both currently monthly publications from Shueisha, V-Jump and Saikyō Jump.


V-Jump (né "Virtual Jump") is a monthly multimedia-focused (video games, card games, anime, manga, etc.) magazine by Shueisha dating back to a trial run in 1990. The magazine has historically also been the home of spin-off and sequel manga for series extending beyond their original glory days, with the current serialization of Dragon Ball Super and Boruto (alongside various Yu-Gi-Oh! series) continuing that mission. Before the serialization of Dragon Ball Super, V-Jump was home to spin-offs such as Dragon Ball: Episode of Bardock (by Naho Ooishi) and Dragon Ball Heroes: Victory Mission (by Toyotarō). V-Jump is generally released on the 21st of each month, barring a Sunday or holiday, in which case it is moved up to the next appropriate day.
Saikyō Jump (né "Super Strong Jump") is a monthly manga anthology magazine by Shueisha dating back to 2010. The magazine — aimed at an even younger audience than Weekly Shōnen Jump — has shifted from quarterly, to monthly, to bimonthly, to monthly once more over the course of time. Its content are spin-offs of popular Jump franchises created with the goal indoctrinating younger audiences into their ecosystem. Originally home to Dragon Ball SD (by Naho Ooishi), these days Saikyō Jump is home to Dragon Ball Heroes adaptations and adjacent properties. Saikyō Jump is generally released on the 4th of each month.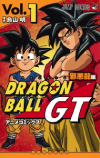 Dragon Ball GT Anime Comic
ドラゴンボールGT
A manga version of the Dragon Ball GT television series, comprised of screen shots — initially with a limited color palette in serialization and full color in collected editions, now in full color straight from serialization — arranged in traditional manga format with accompanying dialog bubbles, running in Shueisha's Saikyō Jump magazine. Debuting in late 2013, the series skipped ahead to start with the Evil Dragons arc, tying in with the Dragon Ball Heroes arcade game's then-current "Evil Dragon Mission" update series. Upon reaching the end of the television series, the manga looped back to the proper beginning of Dragon Ball GT.
Release Information
Author:n/a
Publication:Saikyō Jump
Released:2014 – present
Collected Volumes:Yes
Toyotarō's "comicalization" of the Dragon Ball Super TV series began in the August 2015 issue of V-Jump. The series began with the Battle of Gods arc, skipped the Resurrection 'F' arc, and "charged ahead" to the Champa arc. Following the completion of the respective television series, the Dragon Ball Super manga moved on to its own original (and thus far currently-exclusive) story arcs.
Release Information
Author:Toyotarō
Publication:V-Jump
Released:2015 – present
Collected Volumes:Yes
A brand-new story with a group of young characters playing the Super Dragon Ball Heroes arcade game, with a young hero who idolizes Son Goku.
Release Information
Author:Yūji Kasai
Publication:Saikyō Jump
Released:2021 – present
Collected Volumes:Yes
Adapts game-original story lines including the Space-Time Tournament with characters from various dimensions and timelines. Ultra God Mission!!!! follows three previous Super Dragon Ball Heroes manga series, all also from Nagayama and originally running in Saikyō Jump: Dark Demon Realm Mission!, Universe Mission!!, and Big Bang Mission!!!
Release Information
Author:Yoshitaka Nagayama
Publication:Saikyō Jump
Released:2022 – present
Collected Volumes:Yes
Current Dragon Ball Serialization — Digital
One Dragon Ball manga is currently serialized in Japan first as a digital video series (though it originally debuted in print within the pages of Saikyō Jump), which is then later compiled into standard print volumes.
Originally published as four quarterly chapters, the monthly re-launch of Saikyō Jump also led to a reboot of Naho Ooishi's Dragon Ball SD which re-tells the original manga's story with additional jokes and references for older fans that already know the plot. Several additional bonus chapters have appeared in various magazines and event attendee books that diverge from the standard story. With the refresh and relaunch of Saikyō Jump in 2021, Dragon Ball SD — a stalwart of the magazine from its launch — instead moved to being posted as videos on the official Saikyō Jump YouTube channel. Collected print volumes continue to see a release, however.
Release Information
Author:Naho Ooishi
Original Publication:Saikyō Jump
Current Publication:Saikyō Jump Official YouTube Channel
Released:2011 – present