Contemporary with the franchise's original serialization, three "Original Illustrated Stories" were published in various magazine and book publications by anime production staff members, taking three separate characters that were further developed with internal monologues and story expansions. Several Dragon Ball crossovers and guest appearances were also published. Since that time, the amount of supplemental Dragon Ball manga has exploded thanks to sequel series and successful video games.
POPULAR SUB-SECTIONS
Naho Ooishi (オオイシナホ) has contributed three adaptations of Dragon Ball, with all of them being published in either V-Jump or Saikyō Jump. Her manga spin-offs have covered many different aspects of story telling, including straight-up adaptations of the original material (the 2008 Jump Super Anime Tour special), alternate re-tellings of the original material (Dragon Ball SD), and completely new stories (Episode of Bardock).
In 2012, "Toyotarō" (とよたろう) joined the fold with his Dragon Ball Heroes: Victory Mission promotional comic in V-Jump. Toyotarō went on to pen a three-chapter introductory adaptation of the 2015 theatrical film Resurrection 'F', and was later tapped for the "comicalization" of Dragon Ball Super, all of which also ran in V-Jump. Toyotarō also penned a single-chapter promotional comic in support of the video game Dragon Ball XENOVERSE 2 in 2016, for which he made an appearance at New York Comic Con.
Original manga author Akira Toriyama himself has directly contributed to two crossover manga chapters: a One Piece collaboration with author Ei'ichirō Oda, and a Kochikame crossover with author Osamu Akimoto. Toriyama also penned an eight-chapter series that increasingly became more and more of a Dragon Ball spin-off and parody as it went on called Neko Majin. The most recent spin-off from Toriyama himself has been Jaco the Galactic Patrolman, an 11-chapter series that starts out as its own story, but concludes with an exciting tie-in to Dragon Ball, expanding upon his existing "Galactic Patrol" universe co-authored with Masakazu Katsura.
Various other manga artists — including Hiroshi Otogi, Yoshitaka Nagayama, Katsuki Hirose, etc. — have penned their own tie-in series for video games such as Dragon Ball Heroes, Dragon Ball Fusions, Dragon Ball Discross, and more.
Stand-Alone Products
Toyotarō's "comicalization" of the Dragon Ball Super TV series began in the August 2015 issue of V-Jump. The series began with the Battle of Gods arc, skipped the Resurrection 'F' arc, and "charged ahead" to the Champa arc.
Release Information
Released:2015 – present
Retail:Various
Book Size:Various
Publisher:Shueisha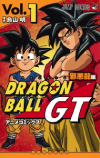 Dragon Ball GT Anime Comic
ドラゴンボールGT
A manga version of the Dragon Ball GT television series, comprised of screen shots — with a limited color palette in serialization, and full color in collected editions — arranged in traditional manga format with accompanying dialog bubbles, running in Shueisha's Saikyō Jump magazine. Debuting in late 2013, the series skipped ahead to the Evil Dragons arc, tying in with the Dragon Ball Heroes arcade game's then-current "Evil Dragon Mission" update series. Upon reaching the end of the television series, the manga looped back to the proper beginning of Dragon Ball GT.
Release Information
Released:2014 – present
Retail:Various
Book Size:Serialization A5 (14.5 × 21 cm), Collected Volumes B6 (12.8 cm × 18.2 cm)
Publisher:Shueisha
Originally published as four quarterly chapters, the monthly re-launch of Saikyō Jump also led to a reboot of Naho Ooishi's Dragon Ball SD which re-tells the original manga's story with additional jokes and references for older fans that already know the plot. Several additional bonus chapters have appeared in various magazines and event attendee books that diverge from the standard story.
Release Information
Released:2011 – present
Retail:¥450 – ¥600 each
Book Size:Various
Publisher:Shueisha
A few years after completing Dragon Ball, and sporadically over the next few years in between his other projects, Akira Toriyama released chapters of Neko Majin, a series that increasingly became a Dragon Ball parody and spin-off as it went on.
Release Information
Released:1999 – 2005
Retail:¥230 – ¥880 each
Book Size:Various
Publisher:Shueisha
Related/Grouped Products
Within the pages of V-Jump and Saikyo Jump, various authors and illustrators have expanded the Dragon World with game tie-in manga, starting all the way back in 1990 with a Carddass series, and running through today with various Dragon Ball Heroes series.
Release Information
Released:Various
Retail:Various
Book Size:Various
Publisher:Shueisha
Within the pages of V-Jump, Naho Ooishi has produced a two-part manga adaptation of the 2008 Jump Super Anime Tour Special, while "Toyotarō" penned a three-chapter introductory manga to Revival of "F".
Release Information
Released:Various
Retail:Various
Book Size:Various
Publisher:Shueisha
In collaboration with colleague and old friend Masakazu Katsura, Akira Toriyama inadvertently developed a series of "Galactic Patrol" manga beginning with Sachie-chan Gū!! in 2008 and Jiya in 2009-2010. Toriyama penned the 2013 direct Dragon Ball tie-in Jaco the Galactic Patrolman on his own. Though the television series completed its run, the Dragon Ball Super manga continued onward telling its own version of the existing story, entering its own original "Galactic Patrol Prisoner" arc following the completion of the Tournament of Power beginning in its 42nd chapter.
Release Information
Released:2008 – ongoing
Retail:Various
Book Size:Various
Publisher:Shueisha
Since Dragon Ball's original completion, the series has been included or parodied to some extent in numerous other manga series, largely due to the series' significant impact and influence on the then up-and-coming manga artists. Some artists have even created entire crossover chapters between their own series and Dragon Ball, often including significant collaborative input from Akira Toriyama himself.
Release Information
Released:Various
Retail:¥240 – ¥2,000 each
Book Size:Various
Publisher:Shueisha
Three products given the title "Original Illustrated Story" were written and illustrated by various members of the anime production staff (Takao Koyama, Minoru Maeda, Aya Matsui) and printed in miscellaneous publications of the time.
Release Information
Released:1989 – 1993
Retail:¥550 – ¥670 each
Book Size:Various
Publisher:Shueisha
Manga published exclusively (or at least initially, prior to print compilations) on digital platforms such as Shueisha's "Jump Plus" service.
Release Information
Released:2016 – present
Retail:Various
Book Size:Various
Publisher:Shueisha