Dragon Ball Z: Battle of Gods Official Movie Guide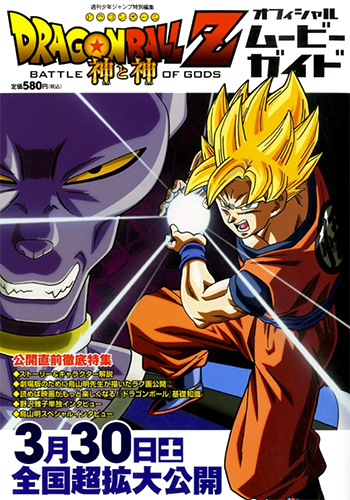 Main Staff Comment Collection
These staff poured all their energy into making the movie exciting. Behind the scenes stories and production secrets are now revealed…
Main Staff #1 / Scenario
Yūsuke Watanabe
PROFILE
Scriptwriter. Has worked on the scripts for many TV dramas. His major works include Aibō: Season 7 and Future Diary: Another World.
Please tell us about your enthusiasm for this movie.
It's a work I've loved since I was a child, so I'm truly happy to have the honor of doing the script!
Please tell us the dialogue and scenes that you particularly like.
I like all the dialogue, and all the scenes.
With regards to the script, what sort of interaction did you have with Toriyama-sensei?
I basically took Toriyama-sensei's content-packed plot and reworked it into script format.
What would you like people to take away from this movie?
Excitement! Because I've been excited ever since I received this job!
Please give a message to the fans who will be seeing the movie.
It's a movie that will put a smile on everyone's face, so by all means, please enjoy seeing it! I want people who have known Dragon Ball since way back to see it and reminisce, and people seeing it for the first time to watch with excitement!
Main Staff #2 / Character Design
Tadayoshi Yamamuro
PROFILE
Affiliated with Toei Animation. Has worked on character design for Hakaba Kitarō, and as an animation supervisor for Toriko.
Please tell us about your enthusiasm for this movie.
I've worked on [Dragon Ball] pictures several times since the TV series' broadcast ended. However, it had been 17 years since my last [Dragon Ball] movie, so I'm nervous.
What scene where you put in the most effort into?
I gave my best in all of them. (laughs) It's hard to say "This one in particular!", but I put a lot of effort into the action scenes.
Was there anything you were careful about with respect to the character designs?
Since the movie was set after the "Boo Arc", I did it while trying to bring [the art] toward the stylistic touch from the "Boo arc".
Were there any instructions that you got from Toriyama-sensei?
The design for Super Saiyan God. He told me that he wanted me to bring out a slim quality, rather than macho toughness.
Please give a message to the fans who will be seeing the movie.
Goku will be appearing in theaters for the first time in a long while. Please look forward to it!
Main Staff #3 / Art Director
Hiroshi Katō
PROFILE
He has done art direction for a large number of works, such as Evangelion 3.0: You Can (Not) Redo, Space Brothers, Sayonara, Zetsubou-Sensei, and Kimi ni Todoke: From Me to You.
Please tell us about your enthusiasm for this movie.
It's an honor participating in a such a big title as this.
When creating the art for the palace where Beerus lives, did you use anything as a reference?
I used photographs of big trees and palaces overseas as a reference.
Before starting production, what sort of instructions did you receive from the director?
I was told that places like those that appeared in the existing TV series should feel familiar, and that new settings should not seem out-of-place with them.
Please tell us your number-one favorite piece of art in this work.
I had fun with Capsule Corporation.
Please give a message to the fans who will be seeing the movie.
In a lot of ways, this is a work that I gave my all to for a brief but brilliant time. Please enjoy it!
Main Staff #4 / Music
Norihito Sumitomo
PROFILE
Musician. He has contributed music to many movies and TV dramas, such as The Tale of Genji: A Thousand-Year Enigma and Keigo Higashino Mysteries.
Please tell us about your enthusiasm for this movie.
I'm just barely part of the real-time generation. It's like a dream that the day I'd be able to take part in this work has finally come. I'd like for people to feel that it doesn't betray the sense of Dragon Ball in people's memories, but gives a fresh impression even so.
How did you go about creating the music?
Composition was mainly done at the underground studio at my home, done for each scene. I'd bring what I'd simulated on the computer into the studio at a later date, replacing [the synthesized material] with live instrumentation such as orchestra and guitars in the hands of talented musicians.
In creating the music, was there any sort of over-arching theme?
When it comes to Dragon Ball, it's got to be Son Goku. Son Goku, the absolute hero, isn't just strong. I believe I've expressed that charm of his to the greatest possible extent.
English Translation: SaiyaJedi