The official Dragon Ball website's twenty-second entry in "The Nearly Complete Works of Akira Toriyama" — an on-going series highlighting rare and important pieces of the author's work over the years — is a postcard the author sent to his fanclub in February 1984. The website's commentary notes the cute scene between Arale and Obotchaman being a rarity for Toriyama, who is not good with romance. It also notes that the postcard has, "Give me chocolate!… I don't need any from boys!" written, though this is not visible on the side shown here; in Japan, chocolate is traditionally given by girls to boys on Valentine's Day, which is reciprocated a month later on White Day.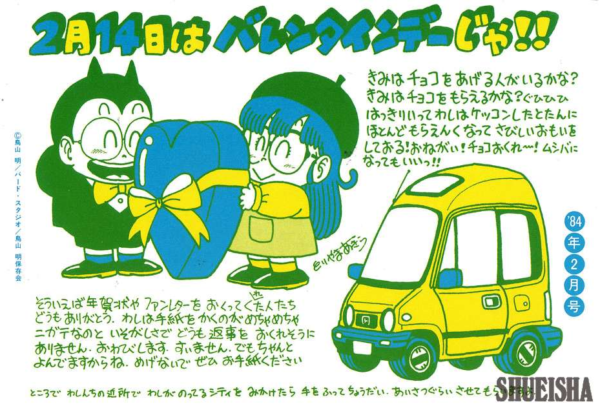 February 14th is Valentine's Day!! Do you have someone to give chocolate to? Will you get to receive chocolate? Tee hee hee. To be frank, right after I got married, I stopped receiving almost any chocolate, and that makes me sad! Please! Give me chocolate~! I don't care if I get cavities!!

Come to mention it, thank you very much to those who send me New Year's cards and fan letters. I'm extremely bad about writing letters, plus with how busy I am, there's no way I could possibly send out responses. I apologize. I'm sorry. But I am actually reading them. Please don't be discouraged, and keep sending me your letters!

By the way, if you see me driving my Honda City around my neighborhood, please wave. I'll at least acknowledge you.
Toriyama mentioned Valentine's Day several times in his author comments over the years, beginning with chapter 6 of Dr. Slump in the 1980 #10 issue of Weekly Shonen Jump:
ボク甘いものきらいじゃないです。チョコレート…まってます。<明>
---
I'm not averse to sweet things. I await… your chocolate. <Akira>
The fallout of this was addressed alongside chapter 11 in the 1980 #15 issue:
いただいたチョコは、みんな少しずつたべてます。歯の健康が心配<明>
---
I've been eating a little bit of all the chocolate that all of you have sent me. I'm worried about the state of my teeth. <Akira>
During Dragon Ball's serialization, Toriyama began his Valentine's Day mentions alongside chapter 211 with a disappointed reflection on who actually ate that year's chocolate, followed by notes alongside chapters 214, 264, 313, and 362 thanking everyone for their chocolate.
V(バレンタイン)・デーに奥さんからチョコを(ハート)でも食べてたのは、奥さんと息子だけ。はてな…?<明>
---
The only ones who ate the Valentine's Day chocolate from my wife were my wife and my son. Um…? <Akira>
遅くなってしまいましたがV(バレンタイン)チョコ、たくさん有難うございました。全部食べます。<明>
---
I'm late with this, but thank you for all the Valentine's chocolate. I'll eat it all. <Akira>
V・D(バレンタインデイ)のチョコを送ってくださった方,ありがとうございました。おやつに食べてます。<明>
---
Thank you very much to those who sent me chocolate for Valentine's Day. I'll have it as a snack. <Akira>
ファンの方、V・D(バレンタインデー)のチョコ有難う。それにしてもチョコの種類の多さに改めて驚きました。<明>
---
Thank you to my fans for the Valentine's Day chocolate. Even saying so, I'm amazed once more at the sheer variety of chocolate. <Akira>
バレンタインデーのチョコを送って下さった方,どうも有難う!食べさせてもらいます<明>
---
Thank you to those who sent me chocolate for Valentine's Day! I'll have the pleasure of eating it. <Akira>