An upcoming issue of Jump details the first tidbits about a new closing theme for the series during the "Jinzōningen & Cell arc", and will apparently premier at the end of episode 55 on 02 May 2010. Based on the title for this episode, it will indeed be the "start" of the next story arc when Freeza arrives on Earth with King Cold.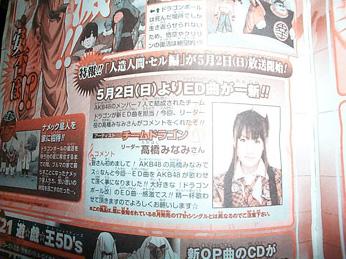 The song will be performed by "Team Dragon", which is made up of seven members from the idol group AKB48.
The name of the new closing theme has not yet been revealed. No information on an updated opening theme has been stated, so it seems likely that "Dragon Soul" will remain.
While the opening theme has had a few key scenes update in the animation as the story moved into the Freeza arc, both the song and animation for the current closing theme ("Yeah! Break! Care! Break!") have remained the same since the show's debut just over a year ago.
Our Japanese buddy kei17 notes that many Japanese fans are upset with this choice, describing AKB48 (the "AKB" standing for Akihabara) as a group popular among "disgusting idol nerds". It is a strange choice — the "Z" portion of the story has always stuck with otaku favorites like Hironobu Kageyama, sure, but never dipped into idol territory outside of cover versions from artists like Shoko Nakagawa and Hitomi Kitamura.
UPDATE: Kei17 gave us a little update, noting that Minami Takahashi, the "leader" of this "Team Dragon", has fans that claim she is "real" fan and even refers to the series frequently on her blog. This may help the Japanese fans a little bit in being slightly more accepting of this choice, but it sounds like it will certainly be an uphill battle.