Following up on this morning's announcement leak are the first details about the new animated Dragon Ball movie (and what appears to be a specifically Dragon Ball Z movie) on the way, now confirmed for a Japanese theatrical release 30 March 2013.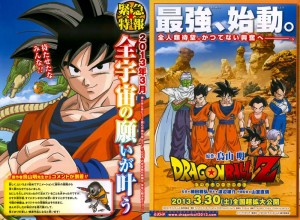 The tagline for the movie (as first seen on the mystery countdown website) is 最強、始動。("The mightiest make their move."), followed by 全人類待望。かつてない興奮へー。 ("All humanity has been waiting. Toward an unprecedented excitement–.").
The movie's director has been announced as Masahiro Hosoda (細田雅弘), who directed several episodes during the Cell arc of the Dragon Ball Z TV series. The script will be written by Yūsuke Watanabe (渡辺雄介), a newcomer to the franchise, though one with an extensive and on-going history of work. Animation direction will be provided by Tadayoshi Yamamuro (山室直儀), a well-known veteran of the franchise responsible for a plethora of animation direction and promotional art work.
Also included is a special note from original manga author Akira Toriyama, who appears to be "deeply involved" with the script writing of a Dragon Ball movie for the first time:
珍しく、というより初めてアニメーションに脚本の段階から深く関わらせてもらいました。
なにしろ久しぶりだったので忘れていることも多かったのですが、さすが原作者、すぐにテンポだけは思い出すことができました。
今回の映画は、オリジナルの雰囲気はそのままに、ほんの少しだけ味付けを現代風にして、昔どおりの楽しい娯楽作品になると思います!

It's rare, or I should say, it's the first time, that I've been deeply involved with the animation from the scriptwriting stage.
As it had been a while, there was a lot I'd forgotten, but as expected of the creator of the original work, I was soon able to get back into the tempo of things, at least.
For this film, while leaving the atmosphere of the original intact, we've added just a little bit of modern flavor, so I think it will be an enjoyable piece of entertainment, just like old times.
A new www.dragonball2013.com domain name is listed on the promotional art, which currently loads a mostly-blank page (filled with just a couple placeholder dashes at the moment).