A new series was NOT announced!
This podcast episode is about using critical thinking skills to debunk rumors. There was no press conference, Akira Toriyama would not personally animate anything, and no new series is coming! Join us in the fight against bad Dragon Ball information.
It's true! I heard it from a friend! On the Internet! Akira Toriyama is totally animating a new Dragon Ball series even though Toriyama is not an animator and it will be over 200 episodes and he announced it at a press conference even though he didn't even show his face on TV last time he was on and it is because the movie did so well even though the announcement was supposedly made before the movie actually premiered in theaters and…
Heard this one before?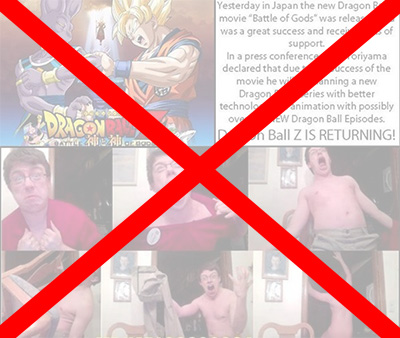 SHOW DESCRIPTION:
Episode #0330! VegettoEX and Julian give fandom a lesson in critical thinking with regard to new Dragon Ball announcements. There is always a random new rumor floating around, but we took the opportunity to break this one down – that Akira Toriyama supposedly appeared at a press conference to announce a new 200-episode series – to its humble beginnings and how a game of telephone can contort and twist misinformation into even worse misinformation.
REFERENCED SITES:
Enjoy! Discuss this episode on the Kanzenshuu forum.