As Shueisha promised, the December 2013 issue of Saikyō Jump — released a couple days early on 02 November 2013 due to "Culture Day" — is jam-packed with bonus Dragon Ball material, primarily in the pages of a bonus booklet itself contained within the magazine.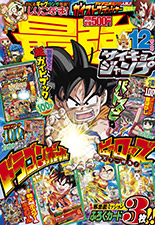 This month's standard chapter of Dragon Ball SD — the 23rd since its monthly reboot — continues the recent trend of Naho Ooishi following the original manga much more closely than the more comedic take of earlier chapters, covering Goku's climb up Karin Tower and his training with the feline Sage. The chapter, included in the magazine's bonus booklet rather than within the regular content pages, is also presented in black-and-white for the first time ever. There is also a single-page bonus in the magazine proper which features Oolong once again getting the jump on Pilaf, wishing for a special Dragon Ball featured in this month's issue.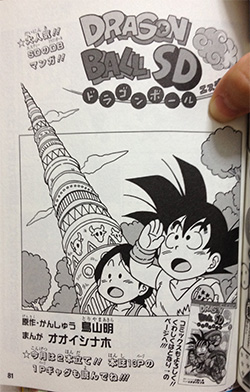 Much like how the December 2013 issue of V-Jump contained an "Away-Edition" chapter of Dragon Ball SD by Naho Ooishi, Saikyō Jump returns the favor with an "Away Mission" bonus chapter of Dragon Ball Heroes: Victory Mission by Toyotarō, entitled "Simulation". The chapter showcases Beat fighting in a battle simulation alongside his cards of young Goku, Kuririn, and Kame-Sen'nin (the same ones included with the issue) against Master Sergeant Murasaki at Muscle Tower, and getting help from Note and Kabra as support characters through a new feature introduced in Heroes JM 1.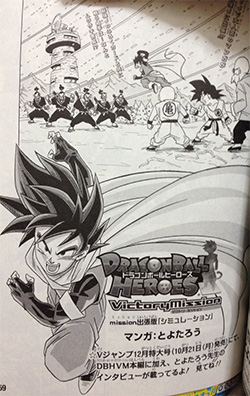 The third manga inclusion is a separate Dragon Ball Heroes-based comic, subtitled Rookie Charisma Mission Episode 0. Penned not by Toyotarō, but instead by newcomer "Yoshitaka Nagayama", it depicts the daily life and "training" of new Battle Navigators Tsubasa and Momo-chan in cute cartoony style.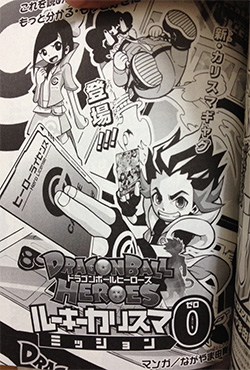 The special booklet also includes much info on the new "Ja'akuryū (Evil Dragon) Mission", with three JM 1-specific Dragon Ball Heroes cards to jump start your deck: Son Goku: Boyhood, Kuririn: Boyhood, and Kame-Sen'nin. A set of "mini-card stickers" is packed in as well, depicting various Dragon Ball Heroes cards. Rounding out the issue's Dragon Ball-themed bonus material is a double-sided JIS B3-sized poster, with promotional art for Dragon Ball Heroes JM 1 on one side, and an illustration by creator Akira Toriyama (originally drawn as a bonus poster for Weekly Shōnen Jump issue 1986 #12 in commemoration of the anime, which would begin airing the following week) on the other.
The December 2013 issue of Saikyō Jump is currently available for order online via CDJapan and Amazon Japan.
The January 2014 issue is due out next month — 04 December 2013 — and will mark the start of serialization for an "anime comic" adaptation of Dragon Ball GT: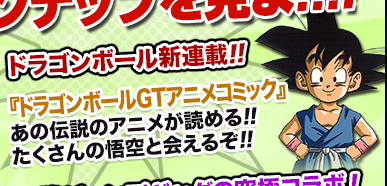 ドラゴンボール新迪載!!
「ドラゴンボール GT アニメコミック」
あの伝説のアニメ が読める!!
たくさんの悟空と会えるぞ!!

---

A new Dragon Ball serial!!
Dragon Ball GT — Anime Comic
You'll be able to read that legendary anime!!
You can see lots of Goku!!
The January 2014 issue is also available for pre-order on CDJapan.