Dragon Ball Z: Battle of Gods, the first new film for the franchise in seventeen years, debuted in Japanese theaters 30 March 2013 with a home DVD and Blu-ray release 13 September 2013. There was a good deal of material left on the cutting room floor back in the planning stages, but some of the material seemed to make its way rather far into production: an extended version of the film was revealed for a special TV broadcast earlier this year on 22 March 2014 during the "Premium Saturday" block. The extra material and extended scenes added up to about twenty minutes of additional footage in the TV edition, resulting in a final runtime of just over 100 minutes.
Shortly after FUNimation's announcement of their Battle of Gods license, representatives from the company's marketing department — Adam Sheehan and Justin Rojas — appeared on an episode of ANNCast on Anime News Network. Many of our own community members and fans across the Internet submitted questions asking for clarification on whether or not FUNimation had acquired the theatrical or extended cut of the film. Sheehan and Rojas were unsure which version it was, but were hopeful to get as much as possible.
Voice actor Sean Schemmel has recently been tweeting out photos from his recording sessions as Goku, and today's photo is quite a huge hint: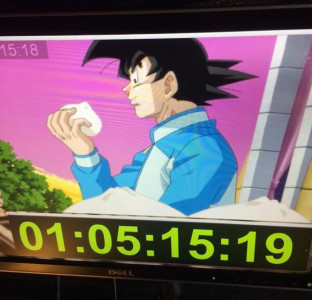 The scene in question is undeniably from the extended TV version of the film. Early on, while on Kaiō's planet, Goku enjoys a quick bite after the duo take a drive around the planet: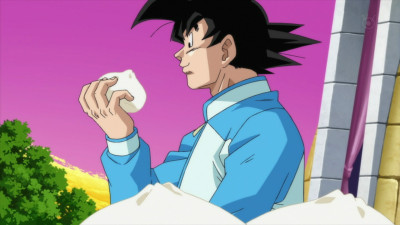 The extended TV version of the film has not been released anywhere — not even in Japan! — on home video yet. This would be quite an exciting acquisition! It could be that FUNimation is simply prepping for a time in which they do have the extended version; as our buddy Jacob pointed out, the video appears to be a TV rip as indicated by Fuji TV's logo in the upper-right.
We have reached out to FUNimation for further clarification.
UPDATE: All of Sean Schemmel's tweets regarding any confirmation on the extended version, as well as recording studio photos, have been deleted.