FUNimation has announced their acquisition of this year's upcoming theatrical Dragon Ball Z film — Fukkatsu no "F" — which will be given the title Resurrection 'F' for the company's release. An English dub of the film will debut in North American theaters this summer, with a subtitled preview screening coming to Los Angeles 11 April 2015.
FUNIMATION ENTERTAINMENT ANNOUNCES ACQUISITION OF DRAGON BALL Z: RESURRECTION 'F'
World Premiere April 11, 2015 at Egyptian Theatre in Los Angeles, CA

It's the news fans have been waiting for! FUNimation Entertainment is proud to announce its acquisition of the theatrical, home entertainment, video on demand and broadcast rights to the upcoming Japanese animated feature film Dragon Ball Z: Resurrection 'F'.

Dragon Ball Z: Resurrection 'F' represents the nineteenth feature film in the Dragon Ball series. Series creator Akira Toriyama was directly involved in the film's production, just as he was in the highly successful Dragon Ball Z: Battle of Gods. The English dub of the new film will be released in theaters across North America in Summer 2015.

However, fans of the franchise may not have to wait until summer to get a look at the film! FUNimation Entertainment has teamed up with 20th Century FOX & Toei Animation to host the world premiere of Dragon Ball Z: Resurrection 'F' (in Japanese w/ English subtitles) at the Egyptian Theatre in Los Angeles, CA on Saturday, April 11. So, if you're in the Los Angeles area you can be among the first in the world to see Dragon Ball Z: Resurrection 'F'. A limited amount of tickets to the premiere will be available to fans and the general public beginning today at dragonballz.com.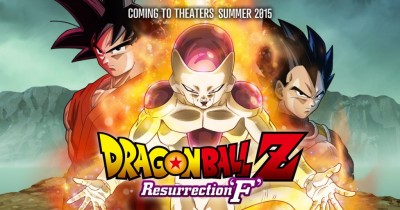 The first preview screening in Japan will be held 30 March 2015.
The title "Resurrection 'F'" was first seen used in the English version of Toei Animation's most recent 3rd quarter financial report released on 30 January 2015.
The story for Fukkatsu no "F" (Revival of "F"), opening nationwide in Japan 18 April 2015 in 2D and IMAX 3D, is being crafted by original manga author Akira Toriyama, who stated he is writing it, "…as though it were a continuation of the manga when it was in serialization," and that while it will, "…of course be a continuation of the previous Battle of Gods," he has also, "…deliberately increased the amount of action scenes by a good deal." Tadayoshi Yamamuro, who worked for many years as character designer and animation supervisor on the Dragon Ball franchise, will serve as the film's director and animation supervisor. Norihito Sumitomo will return from Battle of Gods and the Majin Boo arc of Dragon Ball Kai for musical composition duties. Momoiro Clover Z will contribute a song alongside Maximum the Hormone, whose "F" will be used as a "battle song" during the film. Revival of "F" is set to bring back Freeza and will also include two new characters (Sorbet and Tagoma), feature Beerus and Whis again from Battle of Gods, and much more.