An official website for the upcoming Dragon Ball Super TV series has been launched at www.toei-anim.co.jp/tv/dragon_s/. An official Twitter account has also been set up at @DB_super2015.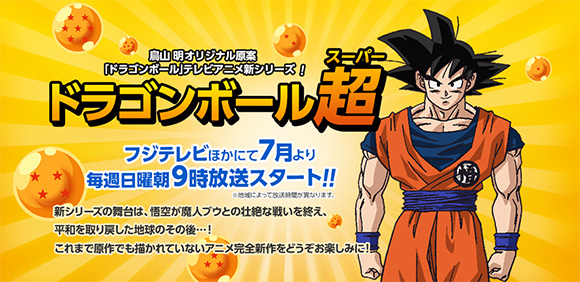 In addition to the previously-revealed involvement (story and characters) from original manga author Akira Toriyama, as well as returning voice actress Masako Nozawa, the website reconfirms Kimitoshi Chioka as the director. The website also announces Kazuya Yoshii (lead vocalist of The Yellow Monkey) as providing the opening theme, while Good Morning America returns from their work on Dragon Ball Kai to provide Super's ending theme.
The website reconfirms a July 2015 start for the weekly TV series, which will air Sunday mornings at 9:00 a.m. on Fuji TV.
While an exact start date has not yet been officially unveiled, it is likely that Dragon Ball Super will begin its broadcast run starting 05 July 2015, taking over the Dragon Ball Kai time slot on Fuji TV. The series will, "…follow the aftermath of Goku's fierce battle with Majin Boo, as he attempts to maintain earth's fragile peace." A manga adaptation from "Toyotarō" will run each month in V-Jump starting in June.
Good Morning America contributed the song "Dear Zarathustra" as the first closing theme to the Majin Boo arc of Dragon Ball Kai for its Japanese broadcast (and third closing theme overall).
UPDATE: Toei Animation's official Dragon Ball Kai website has updated with its own Dragon Ball Super announcement, which again includes all of the information listed above, but surprisingly does reveal the actual new theme song titles. The opening theme by Kazuya Yoshii will be titled, "Chōzetsu ☆ Dynamic!!" (超絶☆ダイナミック!!), where chōzetsu can mean "transcendence" or "excellence". The new ending theme from Good Morning America will be "Hello Hello Hello" (ハローハローハロー). Singles for both themes will be released by Nippon Columbia in August 2015.