Though previously confirmed via leaked pages from the February 2016 issue of V-Jump, which was officially released 19 December 2015 in Japan, the official Dragon Ball Super Twitter account and website have confirmed that the TV series will kick-off the "God of Destruction Champa arc" beginning 24 January 2016 with the show's twenty-eighth episode.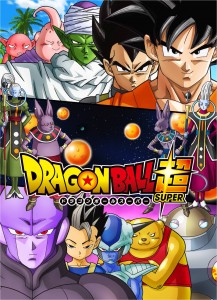 Fuji TV producer Osamu Nozaki commented on the significance of this new story arc and its timing with the TV anime's 30th anniversary:
アニメ放送開始から30周年という記念すべきタイミングで、『ドラゴンボール超』の物語はいまだかつて、コミック、テレビシリーズ、劇場版など一切描かれてこなかった前人未到の領域に突入します。

遂に新キャラクター・破壊神シャンパの正体が明らかになるなど、鳥山原作の新キャラクターが続々登場し、活躍します。

---

The 30th anniversary of the TV anime's broadcast will have memorable timing, as Dragon Ball Super's current story, which is based around the past comics and TV series, will now move into an unexplored area that hasn't been portrayed at all, such as in a movie.

The true identity of the new character God of Destruction Champa will at last be revealed, with original new characters from [Akira] Toriyama appearing one after another.
The manga adaptation by Toyotarō, published monthly in V-Jump, charged forward with Champa material ahead of the TV series beginning with last month's January 2016 issue and the series' sixth chapter. The February 2016 issue of V-Jump contains the series' seventh chapter and introduces Beerus' Universe 7 team (top) who will compete in a tournament against Champa's Universe 6 team (bottom).
Though Champa and his attendant Vados were introduced back in the manga's second chapter, the duo did not make an appearance in the TV series until last month's eighteenth episode.
Original manga author Akira Toriyama is providing the character designs and underlying story for the upcoming Universe 6 / Champa story arc.
Dragon Ball Super airs Sunday mornings at 9:00 a.m. on Fuji TV in Japan. An English dub for the Toonami Asia market has been announced as the first international release of the series.