Toei Animation's official YouTube channel recently uploaded an official promotional version of the second Dragon Ball Super opening theme song, "Limit-Break x Survivor" performed by Kiyoshi Hikawa, new for the on-going "Universe Survival arc" of the television series:
The TV-sized version of the song is available through certain Japanese providers such as Fuji-Melo, Tokusatsu Anime Full, Recochoku, iTunes, and more. A full-length CD single has yet to be announced.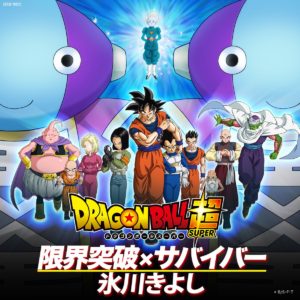 The "Universe Survival arc" began 05 February 2017 with the seventy-seventh episode of the television series. The Dragon Ball Super television series airs Sunday mornings at 9:00 a.m. on Fuji TV in Japan. The series is available for free and premium viewing on licensed sites such as Crunchyroll, Daisuki, and AnimeLab. New episodes are added — in their original Japanese language with accompanying English subtitles — the same day as their Japanese broadcast.