Celebrating the 30th anniversary of "Kochira Katsushika-ku Kameari Kōen-mae Hashutsujo" (or simply "Kochikame" for short), various significant manga authors/artists have gotten together to showcase their appreciation with contributions in manga form! You can learn all about it (in Japanese, of course) over on the official website.
Akira Toriyama's contribution is a little cross-over story in which Ryo-san is sent to work on Planet Namek, and decides to inform Freeza that his ship is illegally parked…!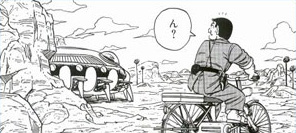 Definitely check out our forum thread for previews and translations! We will talk a little more about it on this weekend's upcoming podcast.