Episode #0143 of the podcast is available for download! Julian was finally able to join in with us for recording, and we were all very excited to check out and review Viz's release of the first daizenshuu in English!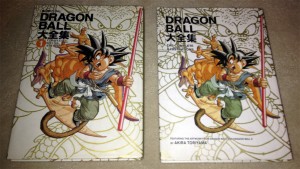 Ain't that trippy to see, with both of them right next to each other? We've said it before, but we were pretty sure this day would simply never occur. As you'll hear in the review, there is very little "negative" we had to say about it. We were both shockingly and gratefully impressed with the near-perfect quality of this release. Definitely check it out.
SHOW DESCRIPTION:
Episode #0143! VegettoEX, Meri, and Julian discuss Viz's fantastic release of the first daizenshuu in English ("The Complete Illustrations"). It's a day we thought would never happen, but here we are! Even more video game news come our way, new characters for the upcoming DB short, Julian's DBZ ABCs, and a whole lot of other good stuff rounds out the episode.
REFERENCED SITES: