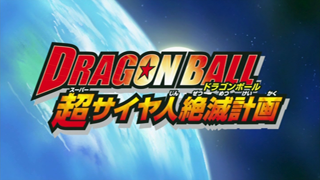 ドラゴンボール 超サイヤ人絶滅計画
Doragon Bōru Sūpā Saiya-jin Zetsumetsu Keikaku
Dragon Ball: Plan to Eradicate the Super Saiyans
Information
Released:
11 November 2010
Running Time:
Approximately 30 minutes

---

Availability:
"Dragon Ball: Raging Blast 2" Video Game (PlayStation 3 / Xbox 360)
Dragon Ball Saikyō Jump Bonus DVD
Feature Synopsis
Long, long ago the people of the highly advanced Tsufru race lived in peace. One day, however, the Saiyans struck, and conquered their once peaceful world. Doctor Raichi, with the last of his strength, sent his "grudge-absorbing" Hacchi Hyack into space so that it may one day avenge his fallen people.
Decades later, Son Goku and Son Gohan arrive at Capsule Corp. A dark planet has arrived near Earth, launching barrel-shaped machines that are unleashing Destron Gas onto West City. Bulma calculates that it would take no more than seventy days for even strong guys like Goku and the other Saiyans to die. Vegeta says that the Tsufruians were the only ones that had the knowhow to handle the Destron Gas. Years earlier it had been Vegeta's father, King Vegeta, who led the genocide of the Tsufruians. Trunks to believes that the new foe wants revenge upon the remaining Saiyans, which Vegeta confirms. Hearing this, Bulma begins working on an antidote immediately.
Later, Goku, Gohan, Trunks, Piccolo, and Vegeta are combing the skies of West City. Finally, they find one of the machines generating the Destron Gas. Vegeta launches a ki blast to destroy the machine; the generator, however, is protected by a powerful barrier. The generator spews out Destron Gas that takes the form of four of the Saiyans' former foes; Freeza, Coola, Slug, and Tullece have been rematerialized! The gang is surprised by this turn of events, however Vegeta rationalizes that their powers have all grown considerably since their initial encounters. Freeza retorts, poking at Vegeta having grown an even bigger mouth. The battle commences and Goku is surprised by Coola's increased power. Goku and friends are shocked to find that when they damage Freeza and company, they reform unaffected. What's more, the Destron Gas is beginning to drain Goku and friends' ki!! Bulma soon arrives, having developed a neutralizing agent. Dropping multiple capsules in the area, the neutralizing agent is unleashed and begins to clear up the Destron Gas. A capsule falls into the Destron Gas generating machine and stops the dispersing of more Destron Gas. With the Destron Gas cleared up, Goku and friends regain their strength. With one final push they destroy Freeza and his team who no longer have any Destron Gas to regenerate from. Freeza warns Goku not to underestimate the power of their grudges. After a quick chat with Kaiō, Goku teleports the gang to the lair of Dr. Raichi.
Dr. Raichi monologues about collecting the maximum amount of Grudge Energy to complete the ultimate warrior to carry out the Tsufruian's revenge. Goku, Vegeta, Trunks, Gohan, and Piccolo confront Dr. Raichi, confirming he has returned as a ghost by the power of his Grudge Amplification Machine, known as Hacchi Hyack. Seeing that the Saiyans will not die quietly from the Destron Gas, the ghost of Dr. Raichi decides to finish them himself. Everyone tries to attack him, but Raichi is guarded by a mighty barrier. Powering up, Vegeta, Trunks, and Gohan manage to punch and kick cracks into Raichi's barrier. For the finishing blow, Son Goku unleashes a Kamehameha that destroys the barrier for good. Vegeta takes this chance to destroy Raichi with his Final Flash.
Saying that Raichi is unbelievable for relying on the grudges of others, Goku is soured to find that Raichi lives on as pure grudge energy. Raichi gives his remaining power to the Hacchi Hyack machine, transforming it into its completed form. Kaiō comments that such a great power might be the end of his North Galaxy. Vegeta attacks first, but his Final Flash is no match for Hacchi Hyack's increased power. With his Revenge Cannon, Hacchi Hyack manages to deal a great deal of damage to Vegeta.
Trunks finally manages to damage Hacchi Hyack, unwittingly revealing to Goku that Hacchi Hyack loses power when defending. Noting that Hacchi Hyack has more power than Broli, Goku resolves to beat him nonetheless. They soon realize that Hacchi Hyack takes fifteen seconds to charge his attack. Combing their finishing techniques, Goku, Gohan, Piccolo, Trunks, and Vegeta finally overcome Hacchi Hyack. Goku and Gohan return home, but Chi-Chi withholds their food for having noticeably gotten into a fight while they were gone.
Feature Notes
This feature was initially an exclusive bonus included with the Raging Blast 2 video game. It is presented in high definition on both the PlayStation 3 and Xbox 360 game discs.
The story was based on the two-part "Official Visual Guides" released by Bandai in August 1993 entitled Plan to Eradicate the Saiyans, which served as a walkthrough for the Famicom video game of the same name. The footage was later re-used in 1994 for Bandai's Dragon Ball Z Playdia video games, The True Plan to Eradicate the Saiyans.
It appears, based on the credits, that this feature was almost entirely Bandai Namco Game's idea. With all of their staff listed first in the credits, it implies they simply hired Toei Animation to re-write and animate the feature for their video game.
The original story was written by Takao Koyama, the anime series organizer and main scenario writer, and was adapted by newcomer Hitoshi Tanaka from its original hour-long length to a shortened 30 minute feature. Although Hitoshi Tanaka is new to the Dragon Ball anime, he has written many episode scenarios for the popular anime One Piece.
The background music for the feature was composed by newcomer Hiroshi Takaki. This follows suit with the original "Official Visual Guides" where the music was composed by Keiju Ishikawa, who had never composed background music for the series up until that point. However, Ishikawa would go on to compose and arrange the second theme song, "We Gotta Power," for the Dragon Ball Z TV series.
For those that pre-ordered the Japanese release early enough, Bandai would include a free character design and conceptual art pamphlet with the video game while supplies lasted.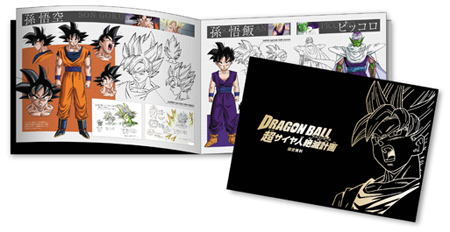 Name Puns
Please note that none of the following name puns have been officially confirmed, unless specifically noted otherwise. These are merely educated assumptions of the creator's intent.
The Tsufruians are the technologically advanced race that the Saiyans wiped out in order to take full control of Planet Vegeta. In contrast to the Saiyans, who are named for vegetables, the Tsufruians (ツフル人; Tsufuru-jin) name comes from the anagram of "fruits" (フルーツ; furūtsu). This further contrasts their differences, which essentially results in a war between fruits and vegetables.
Doctor Raichi gets his name from lychee, a subtropical fruit tree native to China. This is the same thing that the fake Namekian Raichi is named after, although the two characters' names are spelled slightly differently in Japanese, with the fake Namekian having an extended "i" sound on the end of his name (ライチー; Raichī), which the doctor lacks (ライチ; Raichi). This makes the doctor's name exactly the same as its namesake, while the fake Namekian's is just slightly different.
Hacchi Hyack's name most likely comes from yaoya (八百屋), "greengrocer", a store that specializes in fruits and vegetables. The yao (八百) portion means "eight hundred"; normally 800 is read as happyaku, but yao is an alternative reading. 800 in Japanese is shorthand for "a whole lot", and ya means "shop", so in theory a yaoya would be a shop that sells all kinds of stuff, though in practice they focus on fruits and vegetables. When used together, 八百 is read as yao or happyaku, but 八 (8) separately is read as hachi while 百 (100) is read as hyaku. So, you can then see how hachi and hyaku could be altered into "Hacchi Hyack", and a greengrocer fits in with the Tsufru fruit theme very well.
Feature Credits
All credits listed below are as originally presented in the feature. Unlike the traditional credit structure found in typical Dragon Ball episodes, this feature does not contain any opening credits. All original credit errors have been corrected to maintain accurate spellings throughout the site.
Cast Credits
The cast credits are listed in order of character importance within the series. For more detailed information about the series cast, visit the Cast Guide.
孫悟空

Son Goku

孫悟飯

Son Gohan

ターレス

Tullece

野沢雅子

Masako Nozawa

ブルマ

Bulma

鶴 ひろみ

Hiromi Tsuru

ベジータ

Vegeta

堀川りょう

Ryō Horikawa

ピッコロ

Piccolo

古川登志夫

Toshio Furukawa

トランクス

Trunks

草尾 毅

Takeshi Kusao

チチ

Chi-Chi

渡辺菜生子

Naoko Watanabe

ライチー

Raichi

岩崎ひろし

Hiroshi Iwasaki

ハッチヒャック

Hacchi Hyack

石川英郎

Hideo Ishikawa

スラッグ

Slug

稲田 徹

Tetsu Inada

レポーター

Reporter

庄司宇芽香

Umeka Shōji

若い女

Young Girl

斉藤佑圭

Yuka Saitō

ツフル人

Tsufruian

藤本たかひろ

Takahiro Fujimoto

大猿

Ōzaru

宮坂俊蔵

Shunzō Miyasaka

大猿

Ōzaru

赤羽根健治

Kenji Akabane

大猿

Ōzaru

角田雄二郎

Yūjirō Kakuda

フリーザ

Freeza

クウラ

Coola

中尾隆聖

Ryūsei Nakao

界王

Kaiō

八奈見乗児

Jōji Yanami
Ending Credits
製作

Production

今西智明

(バンダイナムコゲームス)

Tomoaki Imanishi

(Bandai Namco Games)

木下浩之

Hiroyuki Kinoshita

原作

Original Author

鳥山 明

Akira Toriyama

「Dragonball」集英社刊

"Dragon Ball" Published by Shueisha

企画

Planning

三戸 亮

(バンダイナムコゲームス)

Ryō Mito

(Bandai Namco Games)

中島光司

(バンダイナムコゲームス)

Kōji Nakajima

(Bandai Namco Games)

広木朋子

(バンダイナムコゲームス)

Tomoko Hiroki

(Bandai Namco Games)

近藤修治

Shūji Kondō

小原康平

Kōhei Obara

若林 豪

Gō Wakabayashi

オリジナル脚本

Original Scenario

小山高生

Takao Koyama

脚色

Adaptation

田中 仁

Hitoshi Tanaka

音楽

Music

高木 洋

Hiroshi Takaki

製作担当

Production Manager

風間厚徳

Atsunori Kazama

声の出演

Voice Performances

~~~~

協力

In Cooperation With

青二プロ

Aoni Production

キャラクターデザイン / 作画監修

Character Design / Animation Supervisor

山室直儀

Tadayoshi Yamamuro

原画

Key Animation

山室直儀

Tadayoshi Yamamuro

稲葉 仁

Hitoshi Inaba

加野 晃

Akira Kano

深町明良

Akiyoshi Fukamachi

斉藤和也

Kazuya Saitō

小野 歩

Ono Ayumu

小峰正頼

Masayori Komine

袴田裕二

Yūji Hakamada

佐野誉幸

Takayuki Sano

唐澤雄一

Yūichi Katsusawa

木下和栄

Kazue Kinoshita

山田雄一郎

Yūichirō Yamada

大塚 健

Ken Ōtsuka

村上直紀

Naoki Murakami

鎌田 均

Hitoshi Kamata

志田直俊

Naotoshi Shida

杉江敏治

Toshiharu Sugie

中野良一

Ryōichi Nakano

藤井 瞳

Hitomi Fujī

村田憲泰

Noriyasu Murata

第二原画

2nd Key Animation

宍戸 望

Nozomi Shishido

森宗弘樹

Hiroki Morimune

渡邊巧大

Kōdai Watanabe

林原麻紀

Maki Hayashibara

西村有紀

Yuki Nishimura

秋山めぐみ

Megumi Akiyama

荘田隆洋

Takahiro Shōda

Pol Anonuevo

Francis Caneda

Rhem Valencia

Victor Balanon

Noel Anonuevo

Alfredo Reyes

Joey Calangian

Aries Nario

Romeo Anonuevo

Frits Ulang

Noel Valmoria

Romel Pura

Eugene Ayson

Ivan Mina

Bobby Dela Pena

Reggie Manabat

Ronnel Pascua

動画

In-Between Animation

Romel Bas

Ronald Resulta

Juan Orense

Allan Conti

Armando Sionosa

色彩設計

Color Design

澤田豊二

Bunji Sawada

デジタル彩色

Digital Coloring

Roy Benabente

Sandy Palma

Rolan Monoy

Alex Palabrica

Noel Santos

検査

Inspection

本橋政江

Masae Motohashi

吉沢啓子

Keiko Yoshizawa

大堀陽子

Yoko Ohori

瀬口愛子

Aiko Seguchi

多田 歩

Ayumu Tada

荻野光雄

Mitsuo Ogino

デジタル特殊効果

Digital Special Effects

太田 直

Nao Ōta

河内正行

Masayuki Kawachi

下川信裕

Nobuhiro Shimokawa

勝岡稔夫

Toshio Katsuoka

星野 健

Ken Hoshino

動画仕上進行

Animation Touch-up Progression

村上昌裕

Masahiro Murakami

美術監督

Art Director

常盤庄司

Shōji Tokiwa

背景

Backgrounds

マジックハウス

Magic House

吉田智子

Tomoko Yoshida

安積裕子

Yūko Azumi

山口大悟郎

Daigorō Yamaguchi

美術進行

Art Manager

澤田真央起

Maoki Sawada

デジタル撮影

Digital Photography

トライパッド

Tripod

大貫昌男

Masao Ōnuki

石塚知義

Tomoyoshi Ishizuka

世良隆光

Takamitsu Sera

川尻絵梨香

Erika Kawajiri

久保村正樹

Masaki Kubomura

勝又雄一

Yūichi Katsumata

亀田美紀

Miki Kameda

井上大輔

Daisuke Inoue

矢吹 健

Ken Yabuki

大久保悠子

Yūko Ōkubo

小池瑞穂

Mizuho Koike

奥沢太郎

Tarō Okuzawa

編集

Editing

片瀬健太

Kenta Katase

編集助手

Editing Assistant

西村英一

Ei'ichi Nishimura

記録

Documentation

樋口裕子

Yūko Higuchi

音響監督

Audio Director

長崎行男

Yukio Nagasaki

録音

Recording

伊東光晴

Mitsuharu Itō

録音助手

Recording Assistant

新垣未希

Miki Aragaki

音響効果

Sound Effects

新井秀徳

(フィズサウンド)

Hidenori Arai

(Fizz Sound)

録音スタジオ

Recording Studio

タバック

TAVAC

オンライン編集

On-line Editing

東映デジタルラボ

Toei Digital Lab

音楽協力

Music Collaboration

東映アニメーション音楽出版

Toei Animation Music Publishing

演出助手

Assistant Director

後藤康徳

Yasunori Gotō

製作進行

Assistant Production Manager

小林克規

Katsuki Kobayashi

プロデューサー補

Assistant Producer

青木洋明

Hiroaki Aoki

製作担当補

Assistant Production Supervisor

稲垣哲雄

Tetsuo Inagaki

協力プロダクション

A Cooperative Production With

山室作画スタジオ

Yamamuro Animation Studio

プロジェクトチームセラ

Project Team Cel

スタジオ九魔

Studio Kuma

スタジオライブ

Studio Live

Wish

スタジオカーペンター

Studio Carpenter

Whisker's

Toei Animation Phils., Inc.

演出

Director

上田芳裕

Yoshihiro Ueda

製作

Production

東映アニメーション

Toei Animation
おしまい
The End
© BIRD STUDIO / SHUEISHA / FUJI TV / TOEI ANIMATION