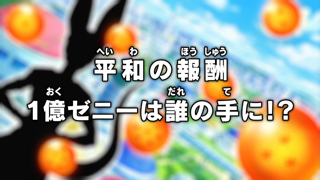 平和の報酬1億ゼニーは誰の手に!?
Heiwa no Hōshū Ichioku Zenī wa Dare no Te ni!?
Who Will the 100 Million Zenny Peace Reward Go To…?!
Episode Information
Episode Summary
After a brief recap of the end of the Boo arc, the narrator explains that Earth is at peace. Goku is plowing a field when Goten stops by to bring him lunch. Goku has Goten drive the tractor for him while he trains, but soon has to rescue Goten when he accidentally drives off a cliff. Goku explains that he is continuing to train in case any more strong enemies appear, even though Chi-Chi demands that he work to earn some money. Out in space, an alien race offers Beerus their best food in an attempt to appease him. Beerus finds the food all right enough, so in return he only destroys half the planet.
Back on Earth, the press is interviewing Mister Satan about him receiving the 100 million World Hero Prize, when Mister Boo angrily wanders out saying he is hungry. The reporters wonder who this strange person is, and how he dares to be so rude to the hero Mister Satan, but Satan explains that Boo is an alien and his #1 disciple. After a tense stare-down, Satan manages to get Boo to go away. He then excuses himself to use the restroom… but instead goes and gives Boo a massage to calm him down, promising to give him lots of tasty food later. He calls out to Videl asking where the chocolate is, but Videl is out in town with Gohan, where she has just bought him a book for his studies. Gohan feels guilty that Videl is always the one buying him things while he never buys her anything in return, but Videl is happy to help Gohan become a great scholar. Piccolo secretly observes the couple from nearby, looking displeased for some reason.
Goten asks Trunks what gift he should give Videl to commemorate Gohan and Videl's marriage. After looking at some rings, Trunks thinks they should get her some beauty wash instead, but Goten is unable to afford any of the high-priced products with his allowance. An old man likewise complains about the cosmetics prices, saying the hot springs water from out in the country where he lives are at least as effective. Goten and Trunks decide to get this water for free, and follow the old man's directions out into the country, but when they get to the hot spring they find it crowded with people. Instead, they go get water from an ordinary river nearby, and wind up battling a giant snake that lives there. Goten starts charging up a Kamehameha, but Trunks warns him that he will blow away the people in the nearby hot spring too. Despite this brief difficulty, the pair are victorious and return with a bottle of water. When Goten gives his gift to Videl, she is surprised to find that it is just ordinary water, but is glad to receive it all the same.
Later, Goten tells Goku about all this out in the field as the sun sets. Goten notes how big Gohan and Videl's house is, and Goku is grateful Mister Satan had such a large home built for them. Mister Satan himself drives up and tells Goku about the prize money. He thinks Goku is the one who truly deserves the prize money, especially since Vegeta has already turned it down, and his family is rich anyway. Goku at first refuses the money, but changes his mind when Goten points out that with the money, Chi-Chi will let him go off and train at Kaiō's planet. This is indeed precisely what happens when Goku presents Chi-Chi with the money: Chi-Chi only asks Goku that he come back home from Kaiō's occasionally, and he teleports off. At this point Kame-Sen'nin barges in demanding that Goku use some of the prize money to buy him dirty videos, but Chi-Chi angrily sends him packing.
In the Kaiōshin Realm, East Kaiōshin ominously tells Elder Kaiōshin that another planet has been destroyed…










Next Time:


"Onward to the Promised Resort! Vegeta Goes on a Family Trip?!"
Episode Notes
The first piece of background music in the show (used during the recap of the battle with Majin Boo), while being a new recording, is an arrangement of "CHA-LA HEAD-CHA-LA" (the first opening theme to the Dragon Ball Z TV series).
While Goten is talking to Goku about his training, Goten remarks that his grandfather, Gyūmaō, is not making enough money to support them all. Gyūmaō is shown sitting at a desk eating noodles, and next to him is a statue of a bull with a "Beef Goodwill Ambassador" (

牛肉親善大使

) certificate prominently displayed right above it on the wall. The title on the certificate is a play on Gyūmaō's name, which can be directly translated as "Bull Demon King".
The title of the book Son Gohan is carrying — "Muzukashii Hon" — means "difficult book" in Japanese (

難しい本

).
The face of the 10,000 zenny bill appears to be Tori-bot (wearing a bow-tie), Akira Toriyama's own self-representation. In a Q&A session within the 2009 Super Exciting Guide: Character Volume, Akira Toriyama stated that he, "… envisioned them as the same as yen." In July 2015 (when this episode first aired), one yen was worth approximately 0.0082 USD, making Mr. Satan's "100 Million Zenny Peace Reward" worth roughly $820,000.
The episode reveals that Mr. Satan has paid for Gohan's house. This was previously mentioned by Akira Toriyama in the special Dragon Ball Volume "F" bonus booklet given to Resurrection 'F' theatrical attendees in Japan. In describing Gohan's house where Piccolo is babysitting Pan, the movie script notes from Toriyama:


The garden of Gohan's house (Mister Satan had this house built for them, so it's really fancy.)"
— Akira Toriyama, Dragon Ball Volume "F"

Mr. Satan's lighting assistants appear to be Pizza and Karoni, filler characters introduced during the Cell Games arc of the Dragon Ball Z TV series. Pizza was Mr. Satan's promoter, while Karoni was one of his top disciples.

There are minor differences between events shown in Toyotarō's manga adaptation (which actually preceded the TV episode in release order) and the final TV episode. In the manga adaptation, Goku specifically imagines fighting Freeza, Cell, and Majin Boo after passing off the work to Goten; in the TV episode, we do not see any of his internal thoughts. Beerus' and Whis' entire conversation about "Super Saiyan God" and the prophetic dream from the manga adaptation is also not present in the TV episode. In addition to the aliens looking completely different between the manga adaptation and TV episode, the "Soup Yasai Jinkot" name and joke are also not present in the TV dialog. Finally, Beerus only destroys "half" of the planet in the TV episode (versus the entire planet in the manga version). With the addition of antics from Goten and Trunks, the first TV episode and first manga chapter otherwise roughly cover the same span of time and overall events.
Staff & Cast Notes
There is one notable voice change in this episode: Shin'ichirō Ōta plays the role of Kaiōshin (credited here as "Kibito-Kaiōshin"), rather than the character's original voice actor Yūji Mitsuya. Shin'ichirō Ōta previously took over the role of Kaiōshin for the entirety of the Dragon Ball GT TV series, but himself was replaced by Yūji Mitsuya in the "refreshed" Dragon Ball Kai TV series and the theatrical film Battle of Gods.
This episode marks the first animated production of the entire Dragon Ball franchise not to feature original sound effects from Hidenori Arai, most likely due to his existing sound effects obligations to the One Piece TV series during the production of Dragon Ball Super. Instead, the series' sound effects are created by fellow Fizz Sound artist Mutsuhiro Nishimura.
Episode Credits
All credits listed below are as originally presented in the episode. The credit structure used in Dragon Ball Super is actually quite simple; the staff involved with the production of the series as a whole are listed in the opening credits and the staff involved with this specific episode are listed in the ending credits. All original credit errors have been corrected to maintain accurate spellings throughout the site. For more information and a complete listing of the series staff, visit the Production Guide.
Cast Credits
孫悟空

Son Goku

孫悟飯

Son Gohan

孫悟天

Son Goten

野沢雅子

Masako Nozawa

 

 

亀仙人

Kame-Sen'nin

佐藤正治

Masaharu Satō

ブルマ

Bulma

鶴 ひろみ

Hiromi Tsuru

ピッコロ

Piccolo

古川登志夫

Toshio Furukawa

トランクス

Trunks

草尾 毅

Takeshi Kusao

チチ

Chi-Chi

渡辺菜生子

Naoko Watanabe

ビーデル

Videl

皆口裕子

Yūko Minaguchi

ミスターサタン

Mister Satan

石塚運昇

Unshō Ishizuka

魔人ブウ

Majin Boo

塩屋浩三

Kōzō Shioya

キビト界王神

Kibito-Kaiōshin

太田真一郎

Shin'ichirō Ōta

老界王神

Elder Kaiōshin

田中亮一

Ryōichi Tanaka

ビルス

Beerus

山寺宏一

Kōichi Yamadera

ウイス

Whis

森田成一

Masakazu Morita

王様

King

間宮康弘

Yasuhiro Mamiya

シェフ

Chef

織田優成

Yūsei Oda

女性

Woman

鹿野優以

Yui Kano

店員

Shop Clerk

森下由樹子

Yukiko Morishita

記者

Reporter

高塚正也

Masaya Takatsuka

記者

Reporter

赤羽根健治

Kenji Akabane

ナレーション

Narration

八奈見乗児

Jōji Yanami
Opening Credits
原作・ストーリー原案・キャラクター原案

Original Author / Story Draft / Character Drafts

鳥山 明

(集英社「ジャンプコミックス」刊)

Akira Toriyama

(Published in Shueisha's "Jump Comics")

企画

Planning

情野誠人

(フジテレビ)

Masato Seino

(Fuji TV)

渡辺和哉

(読売広告社)

Kazuya Watanabe

(Yomiko Advertising, Inc.)

森下孝三

Kōzō Morishita

プロデュサー

Producer

野﨑 理

(フジテレビ)

Osamu Nozaki

(Fuji TV)

佐川直子

(読売広告社)

Naoko Sagawa

(Yomiko Advertising, Inc.)

木戸 睦

Atsushi Kido

音楽

Music

住友紀人

Norihito Sumitomo

オープニングテーマ

Opening Theme

作詞

Lyrics

作曲

Composition

唄

Vocals

「超絶☆ダイナミック!」

"Chōzetsu ☆ Dynamic!"

森 雪之丞

Yukinojō Mori

吉井和哉

Kazuya Yoshii

吉井和哉

Kazuya Yoshii

(日本コロムビア/トライアド)

(Nippon Columbia / Triad)

製作担当

Production Manager

末竹 憲

Ken Suetake

美術デザイン

Art Design

行 信三

Shinzō Yuki

色彩設計

Color Design

堀田哲平

Teppei Hotta

キャラクターデザイン・作画監修

Character Design & Supervising
Director of Animation

山室直儀

Tadayoshi Yamamuro


シリーズディレクター

Series Director

地岡公俊

Kimitoshi Chioka

制作協力

Production Coordination

東映

Toei

制作

Production

フジテレビ

Fuji TV

読売広告社

Yomiko Advertising, Inc.

東映アニメーション

Toei Animation
Ending Credits
脚本

Script

福嶋幸典

Yoshifumi Fukushima

声の出演

Voice Performances

~~~~

協力

In Cooperation With

青二プロダクション

Aoni Production

原画

Key Animation

稲葉 仁

Hitoshi Inaba

村 俊太郎

Shuntarō Mura

手塚江美

Emi Tezuka

中鶴勝祥

Katsuyoshi Nakatsuru

会津五月

Satsuki Aizu

梨沢孝司

Kōji Nashizawa

二階堂渥志

Atsushi Nikaidō

石川 修

Osamu Ishikawa

浦田幸博

Yukihiro Urata

松尾 優

Yū Matsuo

OP/ED作画監督

Opening/Ending Animation Supervision

山室直儀

Tadayoshi Yamamuro

OP原画

Opening Key Animation

稲葉 仁

Hitoshi Inaba

井手武生

Takeo Ide

林 祐己

Yūki Hayashi

金久保典江

Norie Kanekubo

辻 美也子

Miyako Tsuji

梨沢孝司

Takashi Nashizawa

舘 直樹

Naoki Tate

高橋優也

Yūya Takahashi

渡邊巧大

Kōdai Watanabe

北野幸広

Yukihiro Kitano

香川 久

Hisashi Kagawa

ポール・アンニョヌエボ

Paul Añonuevo

ED原画

Ending Key Animation

山室直儀

Tadayoshi Yamamuro

動画

In-Between Animation

Toei Phils.

Toei Animation Philippines

武遊

Buyū

ミュウ

Myū

デジタル彩色

Digital Coloring

Toei Phils.

Toei Animation Philippines

武遊

Buyū

ミュウ

Myū

色指定

Color Designation

加藤良高

Yoshitaka Katō

デジタル特殊効果

Digital Special Effects

下川信裕

Nobuhiro Shimokawa

デジタルアーティスト

Digital Artist

牧野 快

Kai Makino

背景

Backgrounds

佐藤美幸

Miyuki Satō

徳重 賢

Ken Tokushige

西田 渚

Nagisa Nishida

井芹達朗

Tatsurō Iseri

ムクオスタジオ

Mukuo Studio

井上慎太郎

Shintarō Inoue

鹿野良行

Yoshiyuki Shikano

林 鴻生

Hong-Sheng Lin

一瀬あかね

Akane Ichinose

デジタル撮影

Digital Photography

AMGA

AMGA

競 昌則

Masanori Kisoi

服部 安

Yasushi Hattori

平井智朗

Tomoaki Hirai

姜 亜偉

Ai Kyō

岡田由紀

Yuki Okada

西 重成

Shigenari Nishi

杉浦仙一

Sen'ichi Sugiura

茂木邦夫

Kunio Mogi

 

エンディングテーマ

Ending Theme

作詞

Lyrics

作曲

Composition

唄

Vocals

「ハローハローハロー」

"Hello Hello Hello"

金廣真悟

Shingo Kanehiro

金廣真悟

Shingo Kanehiro

グッドモーニングアメリカ

Good Morning America

(日本コロムビア/トライアド)

(Nippon Columbia / Triad)

音響監督

Audio Director

本田保則

Yasunori Honda

編集

Editing

西村英一

Ei'ichi Nishimura

録音

Recording

伊東光晴

Mitsuharu Itō

録音助手

Recording Assistance

新垣未希

Miki Aragaki

音響効果

Sound Effects

西村睦弘

(フィズサウンド)

Mutsuhiro Nishimura

(Fizz Sound)

記録

Documentation

沢井尚子

Shōko Sawai

アシスタントプロデュサー

Assistant Producer

出樋昌稔

(フジテレビ)

Masatoshi Dasuze

(Fuji TV)

静 美保

(読売広告社)

Miho Shizuka

(Yomiko Advertising, Inc.)

音響製作

Audio Production

タバック

TAVAC

録音スタジオ

Recording Studio

タバック

TAVAC

東映デジタルセンター

Toei Digital Center

オンライン編集

Online Editing

東映デジタルラボ

Toei Digital Lab

音楽協力

Music In Association With

東映アニメーション音楽出版

Toei Animation Music Publishing

フジパシフィックミュージック

FUJIPACIFIC MUSIC

企画協力

Planning In Cooperation With

集英社「Vジャンプ」編集部

Shueisha's "V-Jump" Editorial Department

演出助手

Assistant Director

川崎弘二

Kōji Kawasaki

製作進行

Assistant Production Manager

小林克規

Katsunori Kobayashi

美術進行

Art Manager

西牧正人

Masato Nishimaki

仕上進行

Finishing Manager

河本隆弘

Takahiro Kawamoto

CG進行

CG Manager

渡辺克博

Katsuhiro Watanabe

演技事務

Talent Coordination

角 康昭

Yasuaki Tsuno

広報

Public Relations

山本麻未子

(フジテレビ)

Mamiko Yamamoto

(Fuji TV)

美術

Art Director

行 信三

Shinzō Yuki

総作画監督

Chief Animation Supervisor

井手武生

Takeo Ide

作画監督

Animation Supervisor

北野幸広

Yukihiro Kitano

演出

Director

小川孝治

Kōji Ogawa