Once we saw that FUNimation was going to package Dragon Ball Z movies 7 and 9 together for their next double feature, we all correctly assumed we would see some type of (additional) Broli compilation to DVD and Blu-ray. Sure enough, Wal-Mart put up a listing for a "Triple Feature" with DBZ movies 8, 10, and 11 (all three Broli movies). Interestingly enough, they seemed to get a placeholder image with some odd background choices: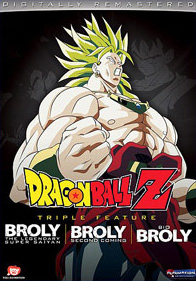 Yep, those are images from the two feature-style DBZ TV specials in the background. Hopefully this will be corrected before the package's release 31 March 2009.
If you remember there being a Blu-ray release back in November 2007, you are correct — a sort of test-run Blu-ray with movies 8 and 10 (the first two of three total movies featuring Broli) was released by FUNimation that did not fit in with any other particular line of releases. It seems this will be the "proper" version going forward.