Based on a recent blog post by R Fujimoto, I think we can confidently say that Takeshi Kusao will indeed be returning to reprise his role as Trunks in Dragon Ball Kai. But wait, who is "R Fujimoto", and how does he know all this? Well…
The comedy group "Ban Ban Ban", formed by R Fujimoto, F Yamamoto, and Takagi Pikkari, were hired as voice talent for episode 56 of Dragon Ball Kai. For anyone unfamiliar with their act, they dress like their favorite Dragon Ball characters and combine their humor with different situations or scenes related to the series. Fujimoto is often seen dressed as Vegeta, while Yamamoto portrays Freeza and Pikkari does Nappa, and sometimes Kuririn. If you'd like to see some bits from their act, there are two YouTube videos you might want to watch (Video 1, Video 2).
| | | |
| --- | --- | --- |
| R Fujimoto | Takagi Pikkari | F Yamamoto |
On April 9th, Fujimoto and Yamamoto arrived at TAVAC Studios, where the audio for every episode and movie of Dragon Ball has ever been recorded. They were set to provide the voices for two of King Cold and Mecha Freeza's henchmen. But first, they met the rest of the main cast and received their official scripts. Of course, they were dressed appropriately…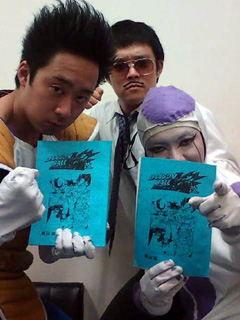 After a successful recording session, what else is there left to do? Why, go out on the town drinking, of course. Now, if you think very highly of the main cast and don't want any of your wonderful preconceived judgments of them shattered, look away!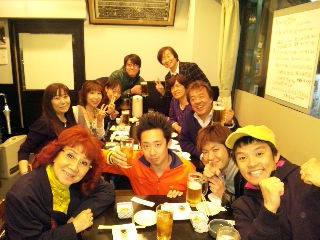 Many of the main cast members attended the gathering, including Masako Nozawa (Goku), Ryūsei Nakao (Freeza), Mayumi Tanaka (Kuririn), Ryō Horikawa (Vegeta), Hiromi Tsuru (Bulma), Toshio Furukawa (Piccolo), Tōru Furuya (Yamcha), Hikaru Midorikawa (Tenshinhan), Naoko Watanabe (Pu'er), and none other than Takeshi Kusao (Trunks). The three guys shown in the front right are from "Ban Ban Ban", with R Fujimoto sitting right next to Nozawa. As the alcohol-induced night progressed, it seemed people started to do some crazy things. Fujimoto noted that Tanaka drew a Vegeta widows peak on his head with a marker, which you can see in the picture below! Some other wacky conduct ensued, but I'll let you use your imagination to fill in the blanks.
| | |
| --- | --- |
| R Fujimoto (left), Hiromi Tsuru (middle) & Takeshi Kusao (right) | R Fujimoto (left) & Ryō Horikawa (right) |
If anything, it sounds like one Hell of a party! But most importantly, after all that, we have confirmation that Takeshi Kusao was present that day to record the voice of Trunks for episode 56. Unfortunately, we still do not know who will take over the role of King Cold, who was originally voiced by the late Daisuke Gōri. In the meantime, cheers~!