This week on our show we take a quick look at the third chapter of Dragon Ball SD from the latest Saikyō Jump by on-going spin-off author Naho Ooishi.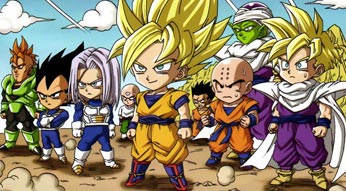 For her third outing, Ooishi focuses on the Cell Game. Does the heavily abbreviated re-telling have any purpose to it, or should even the most devoted fans pass it by? Download the show now, or head on over to the podcast page for more information or to subscribe.
SHOW DESCRIPTION:
Episode #0268! VegettoEX and Meri review the third chapter of "DragonBall SD". Naho Ooishi returns for another chibified spin-off, but does it bring anything new to the table? A good bit of news clarification and fantastic questions from the listeners (including the entire year's worth of news in two minutes!) round out the episode.
REFERENCED SITES: