Originally hinted at via Andriasang and confirmed via the pages of the October 2012 issue of V-Jump (due out next week and available via CDJapan, Play-Asia, and/or Amazon Japan) is Dragon Ball Heroes: Ultimate Mission for the Nintendo 3DS in Japan. The game, a portable-port and tie-in with the existing card-based arcade game in Japan, is due out at some point in Winter 2013.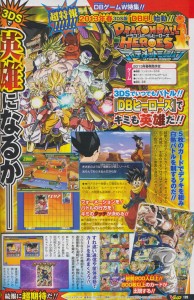 The game is set to contain over 200 characters spread across more than 800 cards. Also included will be a story mode and wireless connectivity, including that with the actual arcade game.
Dragon Ball Heroes is a sequel to and extension of prior card-based quasi-fighting/strategy arcade games in Japan (such as the Bakuretsu Impact games), all of which have used game developer Dimps' models and assets from the Dragon Ball Z / Budokai series (PS2/Gamecube) as a base. The games continue to receive additional updates such as new characters (including, most recently, Super Saiyan 3 Gogeta) and new promotional videos, many of which are mistaken (or purposefully misrepresented) as a "new series".
The last portable game for the franchise — Dragon Ball Kai: Ultimate Butōden for the original Nintendo DS — totally skipped international shelves. With the Nintendo 3DS being region-locked combined with Dragon Ball Heroes as an arcade game never leaving its home shores, this could potentially be another missed gem for us foreign fans. That being said, nothing has actually been announced in that regard with this being so early in its life cycle, so we will just have to wait and see.
Big thanks to Super Saiyan Prime for the heads-up.