The December 2012 issue of V-Jump is chock full of Dragon Ball goodness. In addition to some Dragon Ball Heroes news and mini manga, the issue also teases a new, "super aggressive" character coming soon to Zenkai Battle Royale, the arcade-only Japanese fighting game: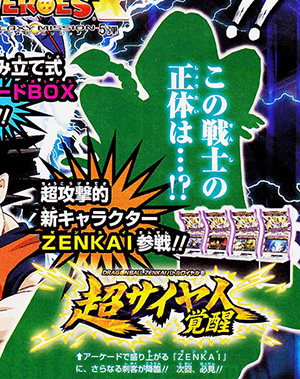 The silhouette is obviously Zarbon, Freeza's right-hand lackey. The game's official website was last updated earlier this month, so hopefully we can get a good look at Zarbon pretty soon. It is fascinating that the game continues to receive new upgrades and character additions from Mr. Satan and Majin Boo to Yamcha and Broli all the way up through its "Super Saiyan Awakening" update.
The December 2012 issue of V-Jump is available via CDJapan for $5.89, Play-Asia for $13.49, or Amazon Japan for ¥500 (~$6.27) — plus shipping, of course — while supplies last. Thanks once again to French superfan Nostal / Treevax for the heads-up!