In support of the upcoming film Dragon Ball Z: Battle of Gods (which debuts in Japanese theaters 30 March 2013), a number of websites will stream the first 17 Dragon Ball animated features starting this Friday, 15 March 2013.
The films include the three Dragon Ball movies (1986-1988), the thirteen Dragon Ball Z movies (1989-1995), and the 10th anniversary movie (1996).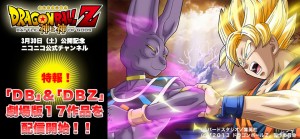 Websites that will stream or otherwise offer the films include Google Play, Apple's iTunes Store, Sony's PlayStation Network, Bandai Channel, niconico, and more. Prices and availability time frames will differ between providers, though niconico will have a variety of free viewing events.