It was back in February that Beerus, God of Destruction, was first teased as an upcoming addition to the multiplayer, online, Japanese-only arcade fighting game Zenkai Battle Royale. Since then, more details about unlocking him via the "Competition for Dragon Balls" have been revealed, along with techniques to use in your battle against the god and his overwhelming speed and power.
At the time, "Super Saiyan God" from the new film Dragon Ball Z: Battle of Gods was only just barely teased, with a promise of more information coming in the June 2013 issue of V-Jump (due out 21 April 2013).
In the meantime, the official website for Zenkai Battle Royale has gone and provided a formal update revealing Son Goku in his "Super Saiyan God" form: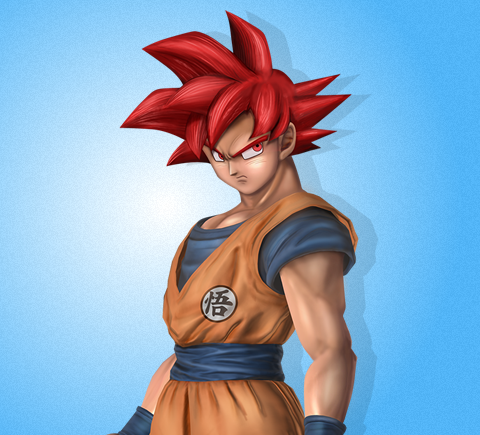 The shining red "God" form can display immense strength appropriate to its name. For far-away opponents, you can use a "Breaking Through the Limit Kamehameha", and in melee battles, you can use a "Dragon Smash" delivering blows faster than the eye can see. You can also overwhelm your opponent with "Can you keep up with me?", where you can move at super-speed. The time that you can remain in Super Saiyan God form is limited, but if you use the power of "everyone's prayers", you can enter God form one more time. On top of that, if your "excitement/tension" gets to its MAX, you can use "everyone's prayers" again.
In normal mode, your defensive strength falls, but if you use "Heavy Smash", with its great countering ability, and "Kamehameha", which is easy to use anywhere, you can get your excitement to MAX, use "everyone's prayers" to get into God form again, and display its power once more.