Last week's 2013 #37 issue of Weekly Shōnen Jump in Japan revealed that Yūsuke Urameshi (Yū Yū Hakusho) and Gon Freecss (Hunter x Hunter) will be joining the battle in J-Stars Victory Vs on the PlayStation 3 and Vita. The two were also showcased in the October 2013 issue of V-Jump released today in Japan, along with a few other minor tidbits about the game.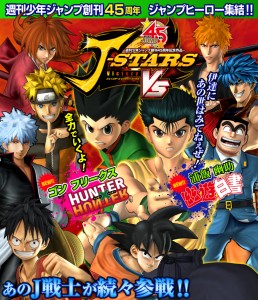 Yūsuke has variations on his Reigun and also brawling moves for melee combat (since he is a delinquent). Gon has his fishing rod which he can use to hook other characters and break their guard, as well as variations on his rock-paper-scissors moves (rock for punching, scissors for cutting, etc.).
In addition, it reveals that the "super special technique" is a finishing move that activates after the "Voltage Meter" fills up. It expands when your team members deliver (or get hit with) attacks, and it packs enough wallop to decide the match if you can pull it off. The environment is also (at least partially) destructible; a new screen shot showcases Toriko cutting open a giant watermelon.
New character announcements are also promised for the next issue of V-Jump (which will release in one month's time). The roster currently stands at:
Son Goku (Dragon Ball [Z])
Monkey D. Luffy (One Piece)
Toriko (Toriko)
Naruto Uzumaki (Naruto [Shippuden])
Ichigo Kurosaki (Bleach)
Himura Kenshin (Rurouni Kenshin)
Kankichi Ryōtsu (Kochikame)
Sakata Gintoki (Gintama)
Yūsuke Urameshi (Yū Yū Hakusho)
Gon Freecss (Hunter x Hunter)
No release date or price has been set for the game as-of-yet. J-Stars Victory Vs, which was initially unveiled as Project Versus J, is tied in with the 45th Anniversary celebration of Jump and will be available for the PlayStation 3 and Vita.