Selecta Visión has been on a roll recently, tossing out even more remasters of the various Dragon Ball series, and now coming out swinging again with the big announcement that many fans in Spain have been waiting for: Battle of Gods has been licensed!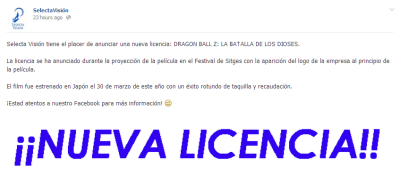 The announcement was made alongside a screening of the film at this year's Sitges Festival. There are no specific details yet about a release date/plan, but the company urges its fans to stay tuned to their Facebook page for more information.
Thanks to sangofe and MrKaytos for the heads-up.