A new smartphone game — following on the heels of the occasionally-disastrous Dragon Ball: Tap Battle — is coming soon to both Android and iOS devices in Japan called simply Dragon Ball RPG: Shōnen-hen ("Boyhood Chapter").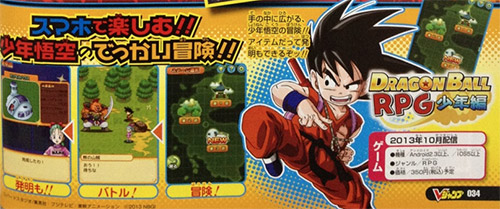 The game is revealed in today's December 2013 issue of V-Jump in Japan with a note that it is coming soon (apparently this very month). Tap Battle came slightly ahead of schedule with its original Android release, so we should see Dragon Ball RPG rather soon, as well — October is just about over!
With the game having a "Boyhood Chapter" subtitle, it is likely we will see this game cover the early portion of the Dragon Ball storyline with a possible follow-up down the road covering later parts of the story.
As our buddy Super Saiyan Prime points out, the key art used for this new mobile game is recycled from Dragon Ball DS 2 / Origins 2 on the Nintendo DS: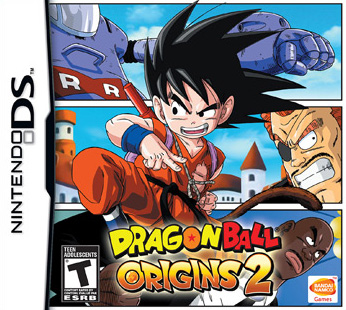 It remains to be seen exactly how much — if anything — will be recycled, but we will plow through the game as soon as we get a chance!