In addition to the standard chapter of Toyotarō's Dragon Ball Heroes: Victory Mission, the December 2013 issue of V-Jump — officially out on Japanese shelves as-of yesterday — contains a bonus chapter of Dragon Ball SD from Naho Ooishi.
In this four-page, black-and-white bonus chapter, included as part of the issue's "V-Jump Manga Festival — Jump Gag Special", Ooishi dips into "What If?" territory with the future version of Trunks, who returns to his own time to receive a new suggestion from his mother: if he went even farther back in time, they would not have had to go through the giant battle with Cell at all. Trunks returns to the past again, this time going all the way back to when Goku and friends were just children. Trunks tracks down Dr. Gero… who is luring a tricycle-riding No. 18 with a lollipop. Trunks goes on the attack with his "Blue Wind's Hope Punch", but stops as Goku and Kuririn happen to walk by. Still stinging from the Red Ribbon Army's defeat, Dr. Gero sends out Artifical Human No. 9 (labeled as "Iyo-ku-gō", a play on the name of V-Jump's Editor-in-Chief, Akio Iyoku)… who is swiftly defeated by Goku with a single kick. Dr. Gero promises never to cause trouble ever again, and a certain kiss scene is replayed with the characters now as children. Dr. Gero goes back on his word, though, and swears revenge on Goku… which means that, ultimately, Trunks traveled back in time for nothing.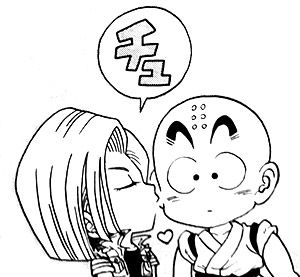 Dragon Ball SD received its first bonus chapter back in the March 2013 issue of Saikyō Jump, with the "Battle of Gods Special Manga Version" covering the early parts of the new film. The first nine chapters of the monthly reboot of the series were released in tankōbon form this past April.
This month's V-Jump also contains bonus artwork and short interviews from both Ooishi and Toyotarō, and is packed with additional Dragon Ball news and is available for purchase from CDJapan, Play-Asia, and Amazon Japan.