As part of the upcoming mid-March 2014 "JM3" (Ja'aku Ryū Misshon / "Evil Dragon Mission") update to the card-based arcade game Dragon Ball Heroes, one of the "SEC" (Secret Ultimate Rare) cards, will be yet another new transformation for the franchise: Pure Majin Boo absorbing "Kibitoshin" (Kaiōshin after fusing with Kibito via the Potara earrings).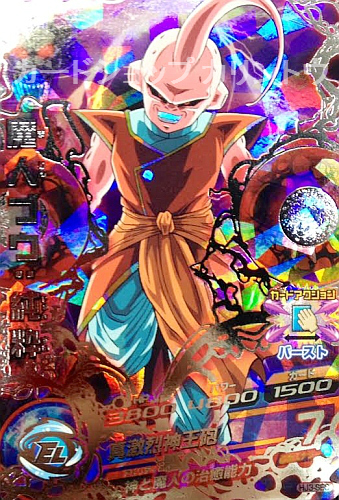 The cards abilities are "Burst: Speed Break", which increases the damage of a finishing move, and "Ability: Healing Ability of a God and Majin", which recovers 5,000 HP for one's own team at the end of the first round.
Vegetto is also receiving a Super Saiyan 3 transformation as part of the same Dragon Ball Heroes update.
In the series-proper, one example of a character absorbing an already-existing-fusion was Evil Majin Boo's absorption of Super Saiyan 3 Gotenks.
One previous "new" transformation-by-way-of-absorption was "Janenba Baby" back in the "Galaxy Mission 4" expansion to Dragon Ball Heroes in late 2012, with Baby from Dragon Ball GT infecting Janenba from Dragon Ball Z Movie 12. Later, there was also version of Super 17 after combining with No. 16.
In Dragon Ball Z 2 (Budokai 2) on the PlayStation 2 and Gamecube from 2003-2004, Evil Majin Boo could absorb Tenshinhan and Yamcha as a duo (rather than an already combined as "Yamhan").
Thanks to TheDevilsCorpse as always for the Heroes-heads-up!