This week's upcoming May 2014 issue of V-Jump — officially due out 20 March 2014 — is announcing Dragon Ball Heroes: Ultimate Mission 2 for the Nintendo 3DS, set for release later this year in 2014.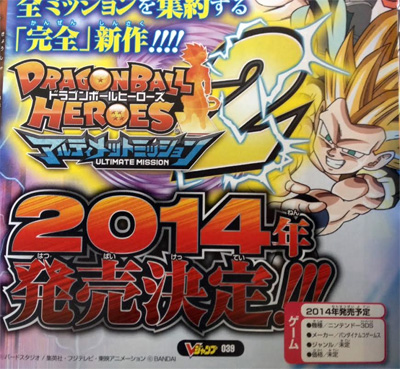 The game is thus far advertised to include all missions up through at least the current JM3 iteration. It will surpass its predecessor in terms of both graphical quality and the amount of content, including a brand-new "Adventure Mode", as well as an "Ultimate Mission" where the player has a finite number of cards and is not allowed to play the same one twice. Players will also be able to retain all the cards they obtained in the first game, although how this will be accomplished has yet to be revealed.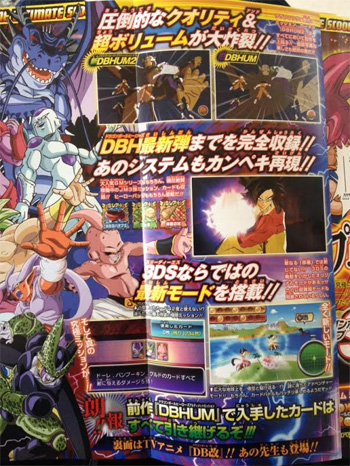 The first Ultimate Mission — released back in February 2013 — covered up through the early "Galaxy Mission" updates of the original arcade version of Dragon Ball Heroes. Over an entire half-year, the game swayed in and out of the Famitsu and Media Create top-selling games charts with reliable, if not consistent, sales figures. The game was not released outside of Japan.
The May 2014 issue of V-Jump is available at sites such as CDJapan and will come packed with additional Dragon Ball news as well as a Super Saiyan 3 Vegetto card for the arcade version of Dragon Ball Heroes.