Inadvertently teased last night with a premptive trailer upload, the new video game formerly known as "Dragon Ball New Project" has been unveiled as "Dragon Ball: Xenoverse" (ドラゴンボール ゼノバース Doragon Bōru Zenobāsu), stylized with an "XV" next to the name.
The trailer for the game, already over-dubbed in English with narration from FUNimation voice actor/director Christopher Sabat, has been officially unveiled by Bandai Namco EU, showcasing several major battles from the "Z"-era of the story.
The trailer features an appearance by the still-mysterious-figure (wearing a cape, Capsule Corporation jacket, scouter, and sporting red hair) with additional narration:
A clock that once had stopped… will start to tick again.
The game — stated by the company to be developed by Dimps (previously of the Dragon Ball Z / Budokai series) — has also now been officially announced for the Xbox One (in addition to the previously announced PlayStation 4, PlayStation 3, and Xbox 360). The Xbox One console itself will release in Japan 04 November 2014.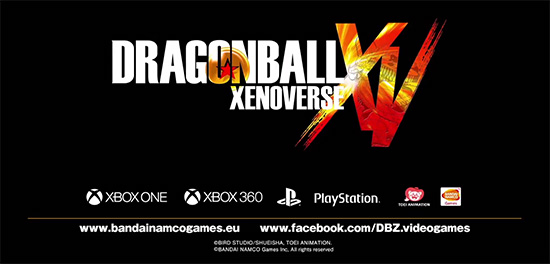 Stay tuned for more coverage of the game live from E3!