As was announced in late-May, FUNimation will be providing a limited theatrical run across North America for the new film Dragon Ball Z: Battle of Gods from 05 August 2014 to 09 August 2014. Since the initial announcement, the official English cast has been announced, a theatrical trailer has been released, and a "red carpet" debut of the film in Los Angeles is scheduled for 03 July 2014, but so far no nationwide theater listings have been officially provided. With FUNimation indicating in its press release that the film would be coming "to over 350 screens across the US & Canada", many fans have been left wondering if their city would be included.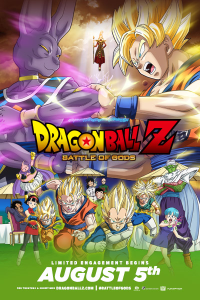 Fortunately, a few companies — specifically Bow Tie Cinemas, Frank Theaters, and Showcase Cinemas — have recently begun listing showtimes for Battle of Gods, giving us a glimpse at where the movie will be available. The following theaters will be showing the film (organized by state), with some even already providing tickets for sale online:
Fairfield, CT — Fairfield Cinemas at Bullard Square
Mt. Airy, NC — Creekside Stadium 10
Shallotte, NC — Coastal Stadium 10
Southern Pines, NC — Sandhills Stadium 10
Delray Beach, FL — Market Place 12 IMAX & FDX
Venice, FL — Galleria Stadium 12
Dedham, MA — Showcase Cinema de Lux Legacy Place
Foxboro, MA — Showcase Cinema de Lux Patriot Place
Lowell, MA — Showcase Cinemas Lowell
Randolph, MA — Showcase Cinema de Lux Randolph
Revere, MA — Showcase Cinema de Lux Revere
Bayonne, NJ — South Cove Cinema 12
Edgewater, NJ — Edgewater Multiplex Cinemas
Egg Harbor Township, NJ — Towne Stadium 16
Hackettstown, NJ — Bow Tie Mansfield Cinema 14
Ridgewood, NJ — Bow Tie Warner Quad
Farmingdale, NY — Farmingdale Multiplex Cinemas
Holtsville, NY — ISLAND 16: Cinema de Lux
White Plains, NY — City Center 15: Cinema De Lux
Whitestone, NY — College Point Multiplex Cinemas
Yonkers, NY — Showcase Cinema de Lux Ridge Hill
Springdale, OH — Springdale 18: Cinema de Lux
Allentown, PA — Carmike 16
Gettysburg, PA — Gettysburg Village Stadium 10
Providence, RI — Providence Place Cinemas 16
Scott Depot, WV — Teays Valley Stadium 10
While these theaters are all located on the East Coast, Carmike Cinemas has posted showtimes for the film in 25 states across the continental United States. This brings the total so far to 31 different states, with presumably even more to follow. With such a widespread release beginning to take shape, it appears that most fans will be able to enjoy this unique theatrical experience.
It should be noted that all theatrical listings so far provide a running time of 85 minutes, lining up with the theatrical version of the film and not the special extended version. All North American theatrical showings will be English-dubbed-only.
We will be sure to keep you posted as more theaters are unveiled, or when an official, complete listing is announced.
UPDATE: We have been putting together an interactive map of all theater locations as they are announced.