Australian distributor Madman Entertainment announced last September that they had acquired the license to Dragon Ball Z: Battle of Gods, and shortly thereafter it began being screened from October to December at the 17th Japanese Film Festival in Australia and New Zealand. As with all movies shown at the festival, it was presented in its original Japanese with English subtitles. However, Madman has recently announced that they will once again be screening Battle of Gods, only this time it will be a very limited run of FUNimation's English dub of the movie. A region locked trailer was posted along with Madman's official announcement, but it is merely FUNimation's trailer for the movie with swapped out dates and locations.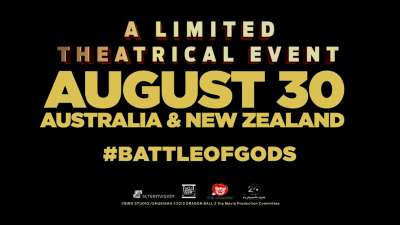 The movie will be screened in 8 cities in Australia and 4 cities in New Zealand on 30 August 2014 (and exclusively in Melbourne on the 31st) as part of the special "Reel Anime" theatrical event. Tickets can be purchased directly from the participating cinema locations listed here.
Thanks to Matt for the heads up about this.