With 32 days remaining until the film's debut, the official blog to promote Dragon Ball Z: Revival of "F" has updated with a comment from the current voice of the dragon god Shenlong, Ryūzaburō Ōtomo:
こんにちは!ブルマよ。
映画公開まであと32日!
今日は神龍のあのお方、大友龍三郎さんからのコメントをいただいたわよ!

今回の映画制作が決まった時、神龍をやらせていただいたのですが、神龍はやりたかった役なので嬉しかったです。
鳥山先生が脚本と聞いたときはみんなが期待感を持っていたので、ああ、そうなんだ。頑張ろう。と私も思っていましたが、神龍は出番が少なくて……もうちょっと出たかったなって思ってます(笑)
もともとはリスペクトしていた内海さんが神龍をやってらしたので、わたしなりにちょっとクールにやってみました。(笑)

フリーザを復活させたことについては神龍の責任と言われましても、ね…タッチしちゃいけないので。
普通の神様もそうでしょう(笑)。
是非映画は見てほしいと思います!映画館に来ていただければ、願いは私の出来る限りかなえてやろう。

是非映画館で観てみてください!

---

Hey, Bulma here!
Just 32 days to go until the movie debuts!
Today we've got a comment from no less a personage than Shenlong himself, Ryūzaburō Ōtomo-san!

When they decided to make this movie I got the honor of playing Shenlong; I had really wanted the role, so I was pretty happy.

Everyone got high expectations when they heard Toriyama-sensei was doing the script. I figured I had better do my best too. But then Shenlong hardly gets any screen time…I would have liked him to stick around just a little longer (laughs).

Shenlong used to be voiced by [Kenji] Utsumi-san, someone I really admired, so I tried to play the part a bit cool, in my own way (laughs).

As for Shenlong resurrecting Freeza, you could just say he was doing his duty, but even so…

Well, I guess even regular gods are like that (laughs).

I definitely want to see this film! If you come to the theater, I'll grant you any wish I can.

Definitely come see it in theaters!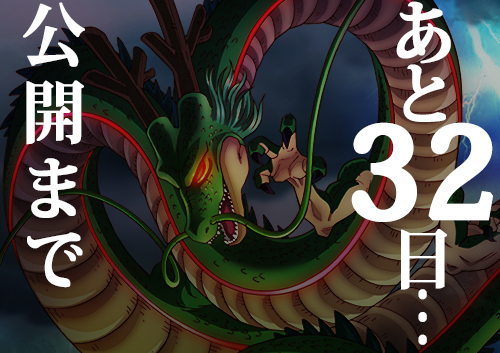 The story for Revival of "F", opening nationwide in Japan 18 April 2015 in 2D and IMAX 3D, is being crafted by original manga author Akira Toriyama, who stated he is writing it, "…as though it were a continuation of the manga when it was in serialization," and that while it will, "…of course be a continuation of the previous Battle of Gods," he has also, "…deliberately increased the amount of action scenes by a good deal." Tadayoshi Yamamuro, who worked for many years as character designer and animation supervisor on the Dragon Ball franchise, will serve as the film's director and animation supervisor. Norihito Sumitomo will return from Battle of Gods and the Majin Boo arc of Dragon Ball Kai for musical composition duties. Momoiro Clover Z will contribute a song alongside Maximum the Hormone, whose "F" will be used as a "battle song" during the film. Revival of "F" is set to bring back Freeza and will also include two new characters (Sorbet and Tagoma), feature Beerus and Whis again from Battle of Gods, and much more.
We will continue to keep tabs on this blog and translate whatever news it reveals, so stay tuned…!