After a bit of content stability over the last couple years, the May 2018 issue of Saikyō Jump — released 06 April 2018 — features a few shake-ups in the serialization of its various Dragon Ball spin-off manga.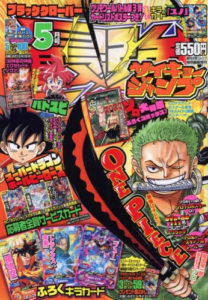 Running for thirteen standard chapters (along with the occasional bonus in V-Jump), Hiroshi Otogi's Dragon Ball Fusions the Manga!! has come to an end. The series launched in the May 2016 issue of Saikyō Jump in support of that year's Dragon Ball Fusions video game on the Nintendo 3DS. The series followed the adventures of Tekka and Pinich leading up to the "Strongest in Time and Space" Tournament. In its final chapter, Tekka is able to defeat the Yamba Gang with the help of his new Dragon Ball friends, and the series ends as the comrades get within sight of the location for the preliminaries.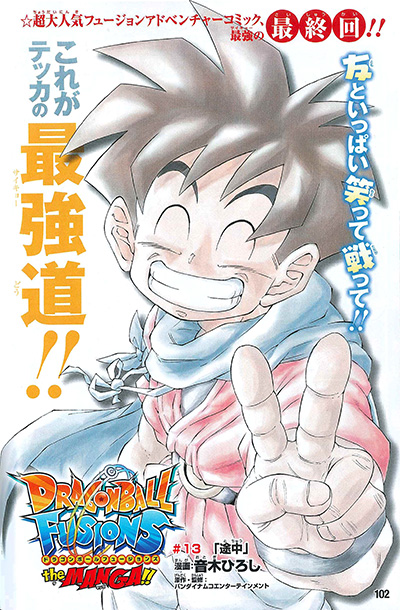 Accompanying this final chapter, Otogi relayed a message of thanks in the issue's author comments section:
Following the previous issue's vague, simultaneous-branding of "End of Part 1" and "Final Chapter" for Yoshitaka Nagayama's Super Dragon Ball Heroes: Dark Demon Realm Mission manga series, the May 2018 issue sees the debut of the Super Dragon Ball Heroes: Universe Mission continuation with Fu showing up (after a brief tease at the end of the previous Dark Demon Realm Mission chapter) to request Goku and Vegeta's help in rescuing Trunks from the Prison Planet. As Goku is ambushed by a Super Saiyan 4 version of himself from a different time (and subsequently going on to enjoy a healthy Super Saiyan Blue vs. Super Saiyan 4 battle), Vegeta questions Fu over these circumstances. Meanwhile, on the Prison Planet, someone breaks into Trunks' cell…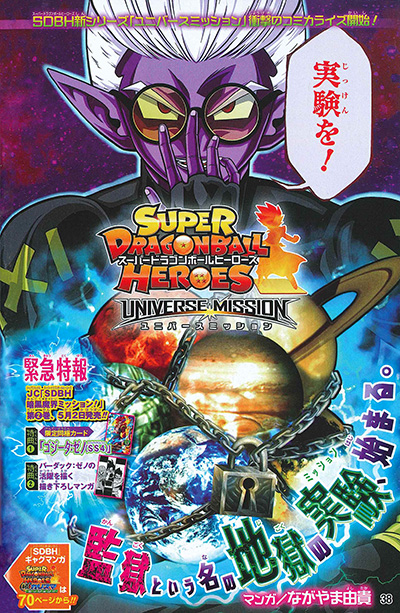 The second collected volume of the Dark Demon Realm Mission series — likely compiling it to completion — is due out next month.
Naho Ooishi's Dragon Ball SD manga series (now at Goku vs. Vegeta in the Saiyan arc) and the Dragon Ball GT anime comic (now at the Four-Star Dragon returning to battle with Goku against the One-Star Dragon) continue as normal in the May 2018 issue.
Saikyō Jump (最強ジャンプ) is Shueisha's younger-child-focused spin-off magazine. Its main content focus is "chibi" or "SD" (childish, "super deformed", exaggerated) stories featuring popular series such as Dragon Ball, Naruto, and One Piece. Due to the longer timespan between issues compared to V-Jump, Saikyō Jump's promotional coverage tends to be short recaps of information already made available elsewhere, or brief summaries for a month's worth of upcoming content. The magazine began as a quarterly publication with four total issues in 2011. The magazine switched to a monthly format in 2012, and switched again to a bimonthly (every other month) release schedule in late-2014.