In conjunction with this week's December 2018 issue of Shueisha's V-Jump magazine, Bandai Namco has announced Super Dragon Ball Heroes: World Mission for the Nintendo Switch. An official website for the game has also opened at sdbh.bn-ent.net. No release date or pricing, beyond 2019 in general, has been announced for Super Dragon Ball Heroes: World Mission.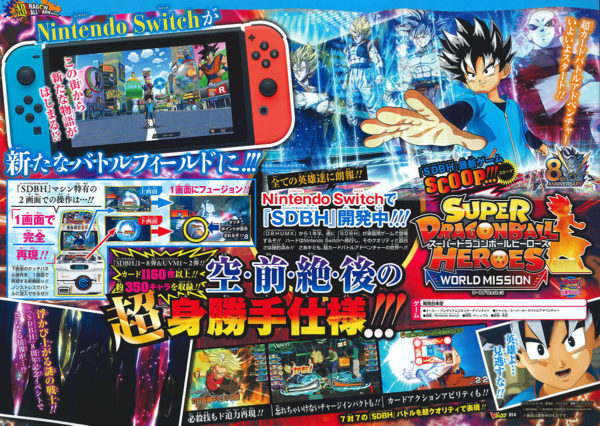 As with the updated Super Dragon Ball Heroes arcade game, players compete in up to 7-on-7 card team battles. The game system combines the upper and lower screens for a unified game experience. Touch points appear on-screen to allow certain game actions (such as gathering energy); in the arcade and previous Nintendo 3DS versions, these would normally happen on the lower touch screen.
World Mission is set to cover the original eight missions from the initial Super Dragon Ball Heroes update, along with the first two "Universe Mission" updates; the arcade game will see its "Universe Mission 5" update next month. The game will include over 1,160 cards featuring more than 350 characters.
The game's story takes place in a world where the super warriors who were active in the past are now treated as great figures; a card game developed with Capsule Corporation's technology based on those legendary warriors is now in vogue, which the people called "Super Dragon Ball Heroes". In "Hero Town" where this game is trendy, Beat (the player character) is a boy visiting for the first time, and stands transfixed by a monitor on the street displaying a game tournament.
Beat was originally developed and named in Toyotarō's Dragon Ball Heroes: Victory Mission series, which ran in Shueisha's V-Jump magazine from 2012-2015.
Dragon Ball Heroes' most recent home/portable entry was Dragon Ball Heroes: Ultimate Mission X on the Nintendo 3DS in April 2017; the game covered 3,300 cards from the arcade version's original 8 missions, 10 "Galaxy Missions", 8 "Evil Dragon Missions", and 10 "God Missions", effectively encompassing all content pre-Super Dragon Ball Heroes in its own original story mode in addition to the arcade version's mission structure.
Outside of a single test run at San Diego Comic Con earlier this year, no Dragon Ball Heroes content has ever received an international/localized release outside of Japan.