Bandai Namco has announced Dragon Ball: The Breakers, an "Asymmetric Online Multiplayer Survival Coop" video game developed by Dimps set for release in 2022 for the PC, Sony PlayStation 4, Microsoft Xbox One, and Nintendo Switch.
Alongside official posts and press articles in Japanese, an official English-language website for the game is open at:
www.bandainamcoent.com/games/dragon-ball-the-breakers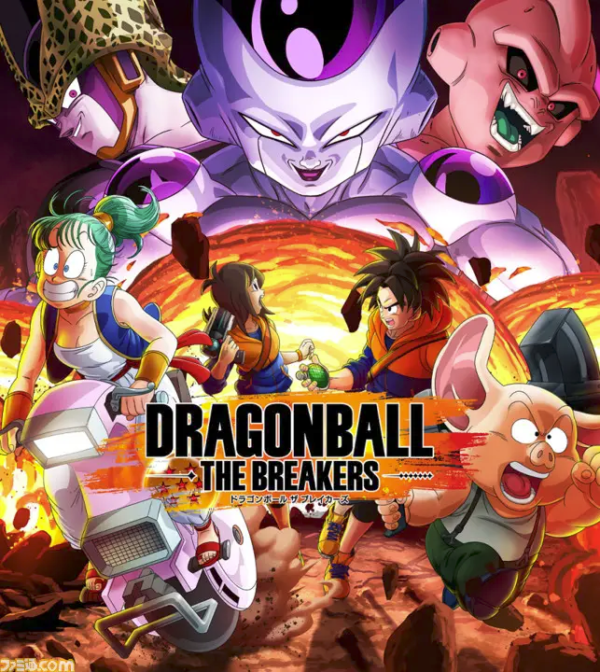 Developed by Dimps, Dragon Ball: The Breakers — widely being compared to the 2016 game Dead by Daylight — puts a small group of survivors up against a "raider" such as Freeza, Cell, or Boo in a quest to do just that: survive. The game will see a closed beta on PC prior to release.
BANDAI NAMCO ENTERTAINMENT AMERICA INC. UNVEILS DRAGON BALL: THE BREAKERS; A NEW SURVIVAL ACTION EXPERIENCE SET IN THE DRAGON BALL UNIVERSE
In the Temporal Seam, No One Can Hear Your Screams

SANTA CLARA, Calif., (November 16, 2021) – Leading video game publisher and developer BANDAI NAMCO Entertainment America Inc. today announced DRAGON BALL: THE BREAKERS which is scheduled to release in the Americas for PlayStation®4, PlayStation®5 (Compatible), Xbox One, Xbox Series X|S (Compatible), Nintendo Switch, and PCs via STEAM® in 2022. DRAGON BALL: THE BREAKERS is an eight-person online multiplayer game that combines both cooperative and competitive dynamics to create a revolutionary asymmetrical online survival action experience set in the DRAGON BALL XENOVERSE universe. A Closed Beta Test will be organized on PC, enabling players to get their hands on the game. More details regarding Closed Beta Test registration will be shared soon.

DRAGON BALL: THE BREAKERS consists of 7v1 matches where seven normal "Survivors" have been sucked into a mysterious phenomenon called the "Temporal Seam" and must contend with the overwhelming power of the eighth player, the franchise iconic rival "Raider," whose task is to obliterate the Survivor team. The Survivors don't have any superpowers and must rely on various power-up items, weapons, and pilotable vehicles to battle and evade the Raider while searching for the Super Time Machine to escape oblivion. Concurrently, the Raider will be able to play as Cell, Buu, or Frieza and amass overwhelming power to destroy the Survivor team throughout the match, ensuring complete dominance.

DRAGON BALL: THE BREAKERS also features a Survivor character customization mode which enables players to design their match avatars by using familiar DRAGON BALL Survivor skins and decorative equipment earned with in-game credits or via optional in-game purchases. Additionally, DRAGON BALL: THE BREAKERS will link save data with DRAGON BALL XENOVERSE 2. Stay tuned for more updates in the future.

"The DRAGON BALL series has been a global fan favorite for over 37 years and DRAGON BALL: THE BREAKERS takes the classic over-the-top action formula and offers an innovative twist with its online survival gameplay," said Lin Leng, Senior Director of Brand Marketing at BANDAI NAMCO Entertainment America Inc. "Both new players and long-time fans can expect an extremely fun and engaging experience; whether playing as a Raider hunting down fellow gamers or as a Survivor, playing cooperatively to team-up against an iconic rival."

Steeped in a wealth of DRAGON BALL lore and featuring innovative survival action gameplay, DRAGON BALL: THE BREAKERS will be available in the Americas for purchase digitally and at brick & mortar retailers for PlayStation®4, PlayStation®5 (Compatible), Xbox One, Xbox Series X|S (Compatible), Nintendo Switch, and PCs via STEAM® in 2022. For information on this and other products from BANDAI NAMCO Entertainment America Inc., please visit www.bandainamcoent.com or follow us on Facebook at https://www.facebook.com/BandaiNamcoUS, or join the conversation on Twitter at https://www.twitter.com/BandaiNamcoUS
Alongside similar information in the game's press release, a video from producer Ryosuke Hara notes that the game will be released an an "accessible pricing" and that it shares a world with the company's existing Dragon Ball XENOVERSE 2 video game, with plans for linking save data between the two games.
Bandai Namco is currently supporting a range of Dragon Ball video games across various consoles and gaming devices, including three major console titles (Dragon Ball XENOVERSE 2, Dragon Ball FighterZ, Dragon Ball Z: Kakarot), two major mobile titles (Dragon Ball: Dokkan Battle, Dragon Ball Legends), as well as the Dragon Ball Heroes franchise largely exclusive to Japan (which is currently celebrating its 11th anniversary). The company recently announced that Dragon Ball XENOVERSE 2 and Dragon Ball FighterZ have sold 8 million copies.