Episode #0117 of the podcast is available for download! Sorry that we're a date late in posting it; I'm not actually sure whose fault it is :P. This week we checked out an amazing project that's just recently been completed: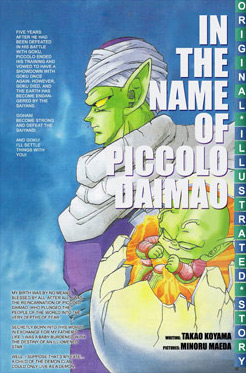 That's right, one of the official DragonBall "side stories", In The Name Of Piccolo-Daimaô, has been obtained, scanned, and fully translated! The above link will take you to the website of desirecampbell, one of our forum regulars, who helped in the project. Read along and listen in for our thoughts. Definitely check it out.
SHOW DESCRIPTION:
Episode #0117! VegettoEX, Meri, and Julian discuss "IN THE NAME OF PICCOLO-DAIMAO", a special side-story manga chapter collaborated upon by Koyama Takao and Maeda Minoru. Where did this come from, how can you read it, and are there any more of these? DBZ ABCs, some e-mails, Mike's broken pop-filter, and other great things round out the episode.
REFERENCED SITES: