FUNimation's new Dragon Ball GT "season one" DVD box set is finally out, and boy do we have a whole bunch of info pouring in about it!
Five discs
Same packaging style as the DBZ TV "remastered" season sets
A new/different encode and "clean-up" is used, though there are slight blurring issues that continue to remove detail
Full-screen 4:3 presentation (no cropped-widescreen)
Contains episodes 1-34 (correctly numbered; no more "Lost Episodes" nonsense)
Audio tracks: English dub w/ Japanese score, English dub TV broadcast track (Menza score), original Japanese
OP, ED1, ED2 included on English tracks as new English versions of original Japanese songs
Both English dub audio tracks play with English versions of original Japanese theme songs
The newly dubbed songs do not use the original Japanese instrumentation
"Step Into The Grand Tour" is completely absent
The eyecatch is visually cut to match the English music instead of the (proper) reverse way
Next-episode previews are removed (whereas the original DVD releases had them)
Opening credits have Japanese production crew listed
Original DBGT logo is gone, replaced solely with FUNimation's own creation
Japanese title cards are gone, replaced solely with FUNimation's dub title cards (no alternate angles)
Extras confirm that the DBGT TV special will be included on the second box set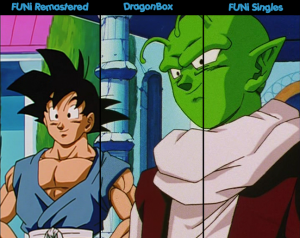 Special thanks to SSJ Kaboom for pulling together the above image. Check out all sorts of additional tidbits in our discussion thread.