The "Viz Big" re-releases of the Dragon Ball manga have finally been back on-track since the very beginning of the year when Dragon Ball Z volume 6 was delayed from January to February and then again to March.
It looks like Dragon Ball Z volume 9 has been pushed back from 19 October 2010 a little ways to 09 November 2010, though.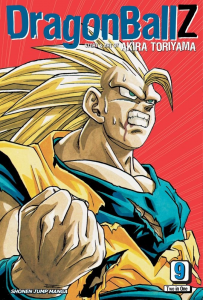 The "Viz Big" omnibus line generally tosses three volumes into one larger book. This particular volume contains the very end of the manga, and comprises the remaining two volumes (original Japanese tankōbon 41 and 42). While printed on a higher-quality stock of paper and regaining some of the color chapters, the "Viz Big" line retains the art and script censoring from their prior "Graphic Novel" releases.
There is no word from Viz what their plans are, if any, for the franchise after this release, including any additional daizenshuu releases or the fandom-desired uncut kanzenban release.