Just about two months ago we reported on a listing on the British Board of Film Classification website that detailed a series of extra features which were originally a part of FUNimation's first "season set" for the Dragon Ball Z TV series. Through attributed to Manga UK, the publisher harshly denied any rumors and — true to their style with prior inquiries concerning other franchises — somewhat berated their fans and potential customers for asking such questions.
An image from the upcoming MCM Expo guide book (now since removed from its original source) surfaced online, clearly showcasing a port of FUNimation's bricks courtesy of Manga UK: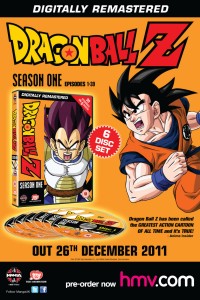 It looks like the first "season set" is due out in the UK on 26 December 2011, and pre-orders will be available soon at hmv.com.
Lesson of the day? Sometimes one plus one does equal three (or maybe just 2.5 since, to Manga UK's credit, the product they are bringing over is not actually Kai…).