If we could keep up with Dragon Ball Online — the seemingly-successful massively multiplayer online role-playing game that initially launched in Korea back in 2008 — we would! Thankfully we have a great bunch of community members that keep that drip of information goodness coming, which most recently includes this guy: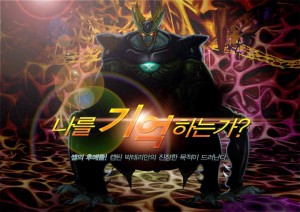 Thanks to our buddies HECTOR4 and TheDevilsCorpse, we know that this villain (or possibly series of villains?) appears to be a new type of Cell concoction courtesy of "Captain Bacterian" (who himself seems to be some sort of pirate villain, though we personally do not know his connected to the original series' Bacterian from the 21st Tenka'ichi Budōkai). The image states:
Do you REMEMBER me? Cell's descendants! Captain Bacterian's true goals are being revealed.
All you Dragon Ball Online experts are free to drop some more tidbits our way — we welcome them!