A news post on Toei Animation's website reveals that Dragon Ball Kai (under the standard international name of "Dragon Ball Z Kai") will be coming to UK television this month:
The English media group CSC Media just acquired the TV rights for 53 episodes of Dragon Ball Z Kai. The English dubbed version should start airing this month in the UK.

The Dragon Ball Z series is currently published on DVD by Manga Entertainment in the UK where the 4th box is released this month.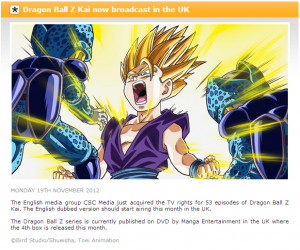 The announcement does not state which English dub will actually be aired. It is a far more interesting situation than one might at first think — while the entirety of the Dragon Ball Kai series has already been dubbed into English by FUNimation for their audiences (which does include areas such as Australia), an alternate English dub produced using what has traditionally been referred to as the Ocean Studios cast has been rumored/confirmed/denied/reconfirmed/etc. for years now. Actors have swayed between offering straight-out confirmations to cagey avoidances, but it seems likely that all of this news together creates a more complete picture.
This past March, Toei (seemingly preemptively) announced a DVD release of the Dragon Ball Z TV series for the UK via Manga Entertainment, a product that had been hinted at and all-but-confirmed for months on end, but had not yet been officially revealed by Manga UK themselves. Speaking with Jerome Mazandarani, Manga Entertainment's Head of Marketing and Acquisitions back on Episode #0296 of our podcast in April of this year, we learned that Kai was always of interest to Manga UK and audiences over there, but that Toei was insistent on starting with "Z"-proper (via sublicensing FUNimation's orange bricks) to somewhat rebuild and reconfirm the enthusiasm and installed base across the pond.