Shueisha's official listing for the "Chōzenshū #1: Story & World Guide" was recently updated with a few alterations from its original listing back in December. While the price point remains the same at ¥2,200, the release date has been slightly adjusted by one day and is now set to be released 05 February 2013. If you have already pre-ordered the guide, fret not, because you will still be getting it first thing in February. This change could be tied to the fact that the first three "Full Color Comics" were set to be released on the same day, although they still really have not spread out the releases too much from one another.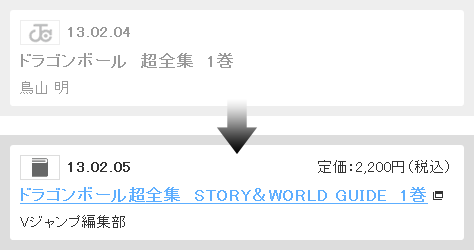 You will also note that the guide's author has been updated, going from the standard Akira Toriyama listing under the Jump Comics moniker to being published under V-Jump as a "Favorite Printing Comics". This is only significant because many fans, including ourselves, have speculated that the Chōzenshū may merely be condensed reprints of the Daizenshuu volumes. However, V-Jump had nothing to do with their release, though V-Jump is of course also just a subsidiary of Shueisha. To make it even stranger, the first Chōzenshū volume has now been assigned a new ISBN (978-4-08-782496-4), which is something you do not often see.
We will be sure to keep you updated with any new developments as we quickly approach the release date!