Today's issue of Weekly Shōnen Jump in Japan (2013 #12) spills the beans on a massive amount of additional promotions for the Dragon Ball franchise coming soon to Japan.
As a part of the lead-up to the upcoming film, Dragon Ball Z: Battle of Gods (set for release 30 March 2013), three satellite channels (Toei Channel, Fuji TV Two Drama/Anime, and Animax) will be airing all thirteen Dragon Ball Z movies along with the Bardock and Trunks TV specials.
A new, multi-pronged promotion will be taking place at Lawson and Mini Stop convenience stores and Aeon malls. Starting 12 March 2013, by traveling to the different stores, you can collect stamps with characters' "cool faces" on them. With receipts from Lawson, Mini Stop, or Aeon, you can enter to win valuable prizes.
Beginning one week earlier, on 05 March 2013, there will be an opportunity to win a Mitsubishi i-MiEV electric vehicle in Capsule Corporation livery — you will have a chance to enter by going to the promotion site and taking a quiz.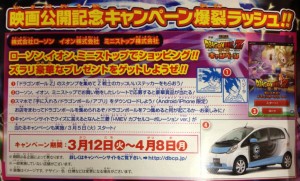 Beginning 12 March 2013, by downloading the "Get Them! Dragon Balls!" app for iOS or Android and going around to the three stores, you can begin collecting Dragon Balls. Gather all seven together, and something will happen!
As for new products, one of 12 different earphone jack figures will come with Kirin Beverages' new "FIRE Smoked Coffee BLACK" drink starting 12 March 2013. Things kick off again even sooner, though, on 28 February 2013 with the second round of Dragon Ball toys at KFC included with "Smile Set" kids meals: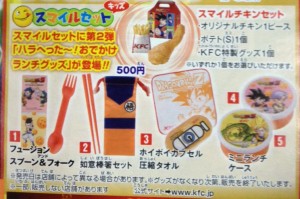 "Fusion Spoon & Fork" (a fork on one end, a spoon on the other)
"Nyoi-bō Chopstick Set" (orange chopsticks and a cloth pouch shaped like Goku's dōgi)
"Hoi-Poi Capsule "Compact Towel" (which comes in a little package but spreads out to full size by soaking in water, after which you can use it)
Two kinds of mini-lunch cases