As anticipated and confirmed via leaked pages last week, today's issue of Weekly Shōnen Jump (WJ 2013 #18) in Japan confirms Project Versus J has been retitled as J-Stars Victory Vs, Naruto Uzumaki from the (obviously-enough) Naruto series has been added, and more series/characters will be unveiled soon. The 3D-field "team battle action" game is being released on the PlayStation 3 and Vita tied-in with the 45th anniversary of Jump, but no exact release date has been set.
In line with the magazine's publication today, the game's official website has also been updated showcasing Naruto's addition: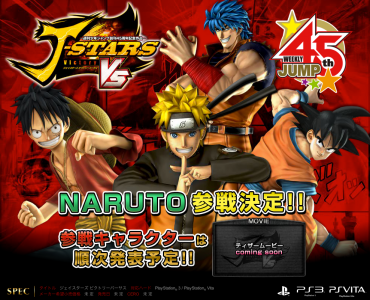 While a "movie" is listed as "coming soon" on the website, Famitsu reports that a large number of characters will be revealed in both Weekly Shōnen Jump and V-Jump, and that the first video footage will be aired during the upcoming "Dream 9 Super Collaboration Special" set for 07 April 2013 at 9:00 am on Fuji TV. The special will feature Toriko, One Piece, and Dragon Ball Z crossing over with each other in two parts: "Run, Strongest Team! Toriko, Luffy, and Goku!" and "The Mightiest Collaboration in History vs. the Gluttonous Man of the Sea".