It has been an interesting, topsy-turvy ride for Dragon Ball Heroes: Ultimate Mission in terms of sales. The Japanese Nintendo 3DS game fell off the Media Create best-sellers list three weeks ago, but gained a second-wind and has actually been back on the rise — that usually does not happen with these types of games!
It now seems likely that the tie-in with the new film Dragon Ball Z: Battle of Gods gave it a bit of a bump last week, since the game has once again dropped off the Media Create list. The Famitsu sales list, however, places it with another 4,964 copies sold this past week (the period of 08 April 2013 to 14 April 2013), the game's seventh week since release.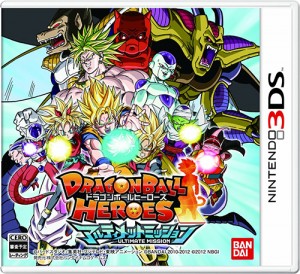 The game, released 28 February 2013, has now sold just under 160,000 copies and is currently only available in Japan (with a physical release only; there is no digital eShop release of the game) with no word on any international release.