FUNimation's high definition, remastered Blu-ray release of the Dragon Ball Z TV series lasted all of two volumes and about six months between original announcement and a release hiatus/suspension.
The company has mostly avoided talking about continuing the series in such a format since then, falling back on promoting the (cropped/widescreen) orange brick season sets originally released from 2007-2009 after completing the "Dragon Box" run and working on the "refreshed" Dragon Ball Kai TV series.
Today, FUNimation launched a new survey asking fans about their purchase history with the franchise and continuing with a new Blu-ray release, which would tentatively span nine volumes (similar to the DVD bricks) and cost $44.98.
Perhaps most interestingly, the company is specifically asking about aspect ratio preferences: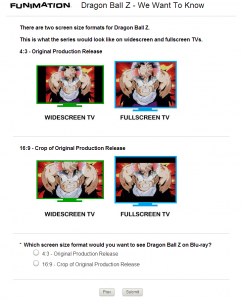 While the orange brick sets were cropped to 16:9 removing approximately 20% of the original picture, FUNimation's "Level" Blu-ray sets remained in their original 4:3 aspect ratio. FUNimation also released Dragon Ball Kai on both Blu-ray and DVD in its original 4:3 production aspect ratio.
FUNimation's question about which year you started watching the series starts with 1996, the year that FUNimation themselves began airing their dub of Dragon Ball Z in syndication.
Visitors of Kanzenshuu that select a 16:9 preferred viewing option for a 4:3 original production will be considered non-canonical readers and will promptly be shot out of a cannon.
Thanks to everyone who gave us the heads-up!